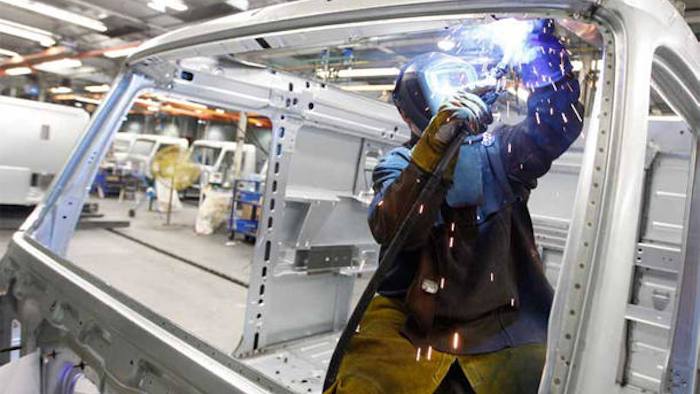 The average manufacturing worker made nearly 11 percent more than a comparable worker outside the manufacturing sector in 2012 and 2013, according to a newly released report.
In the analysis from D.C.-based liberal think tank the Economic Policy Institute, author Robert E. Scott tabs the wage premium for manufacturing jobs at $1.78 per hour, calling the industry "a particularly important provider of jobs with good wages for workers without a college degree."
The Alliance for American Manufacturing said that rate amounts to more than $3,700 on an annual basis for manufacturing jobs.
"This report makes clear just how crucial the manufacturing sector is to the nation's economy," said AMA President Scott Paul. "Manufacturing's wage premium is a clear path to the middle class."
In the wake of this week's State of the Union Address, the issue of stagnant middle-class wages has become a prominent focus in Washington. President Obama called on members of Congress to increase the minimum wage nationwide, giving "millions of the hardest-working people in America a raise;" 21 states, meanwhile, increased their own minimum wages as of Jan. 1.
The EPI report, titled "The Manufacturing Footprint and the Importance of U.S. Manufacturing Jobs," also said manufacturing jobs accounted for 8.8 percent of total U.S. employment in 2013, which jumps to 21.3 percent when indirectly related jobs are factored in -- despite the loss of 5.7 million manufacturing jobs between March 1998 and 2013. The report said those losses hit particularly hard in manufacturing-heavy regions such as the Midwest and South.
Scott said manufacturing employment remained relatively stable between 1970 and 1998, before an increasing trade deficit in manufactured goods -- and the Great Recession -- took a severe toll. Of the overall losses since 1998, 3.9 million came before 2008, when the recession hit; 1.8 million manufacturing job losses came during the recession and the subsequently tepid recovery.
Scott wrote the nation's trade deficit stemmed from imports from low-wage nations such as China and Mexico, arguing currency manipulation by China and Japan have exacerbated the problem since 2009. The issue has fostered criticism of the proposed Trans-Pacific Partnership trade agreement between the U.S. and 11 other Pacific Rim nations.
"The manufacturing sector has struggled to expand as the United States has become more integrated into the global marketplace," Scott wrote. "A lack of supportive U.S. trade and currency policies and inadequate industrial and energy policies harm the nation's ability to meet future challenges that will require a solid manufacturing base."
Scott added that the manufacturing sector has suffered from stagnant public spending on infrastructure and research and development, and that current tax, education and energy policies have also hindered industry.
Paul echoed those sentiments, saying restoring lost jobs would require the country to "tackle the enormous U.S. goods trade deficit, and make a serious, long-term investment in transportation infrastructure."