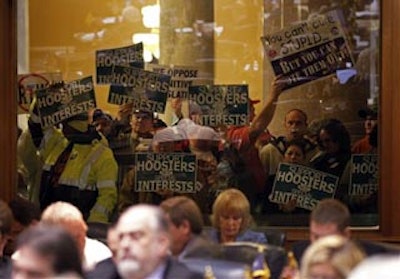 INDIANAPOLIS (AP) — Dozens of union members watched in near silence for hours Friday as Indiana legislators approached their first action on a right-to-work proposal that has prompted a two-day standstill in the Indiana House.
Hundreds of protesters packed hallways and the public balcony of the House chamber where a joint meeting of the Senate and House labor committees heard hours of testimony on the bill. The measure would prohibit contracts that require workers to pay mandatory union fees.
Most House Democrats have refused to convene since Wednesday, effectively stalling the bill in that chamber. The Senate committee, where Republicans hold a 7-3 majority, was expected to vote later Friday to advance the bill to the full Senate.
Supporters of the proposal say many companies will not bring business to Indiana because it lacks a right-to-work law. Twenty-two states, predominantly in the South, have right-to-work laws.
However, one conservative Republican expressed skepticism about proposal, saying he is not convinced of the economic benefits.
Sen. Brent Waltz, R-Greenwood, on Friday asked the president of the Oklahoma chamber of commerce whether the energy industry had a greater impact on that state's economic fortunes than its status as the last state to adopt a right-to-work law, which it passed in 2001.
Oklahoma chamber President Fred Morgan told the committees that the law gives his state a competitive advantage over Indiana in attracting new businesses.
John Sampson, president of the Fort Wayne-based Northeast Indiana Regional Partnership, said the law is needed to make the state relevant.
"It matters in our ability to attract those companies that will create those jobs," he said.
Union members cheered from the hallway when a steelworkers union leader argued that the push was merely a drive to weaken unions.
The NFL Players Association also weighed in on the proposal Friday, saying Republicans were trying to "ram through" the legislation before Indianapolis hosts the Super Bowl on Feb. 5. In a statement the group called the proposal "a political ploy designed to destroy basic workers' rights."