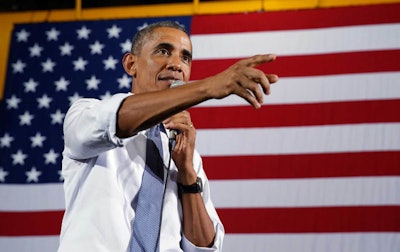 This week the manufacturing sector has seen huge investments, but unfortunately that isn't all. It has also been the backdrop of a Supreme Court decision that disregarded warehouse workers rights and sided in favor of a large corporation. So without further ado, these are IMPO's selection for the "Winner" and "Loser" of the week.   
Winner: President Barack Obama
President Obama won the title this week following his announcement that nearly $400M dollars will be used to help American businesses and workers by "spurring new manufacturing innovations and giving American workers additional opportunities to improve and expand their skill sets for middle class jobs."
President Obama's title was further solidified when it was announced that $290M in public-private investments would be allotted to the development of two new Manufacturing Innovation Hub Competitions. One competition will be in smart manufacturing at the Department of Energy and the other will be in flexible hybrid electronics at the Department of Defense. Both institutes will receive $70 million or more from federal investments, and $70 million from the private sector, totaling the $290 million promised.
The President is also expected to announce the $100 Million American Apprenticeship Grants Competition. This competition will be conducted by the Department of Labor and is designed to help facilitate cooperation with employers, training providers, and local governments to increase the number of available apprenticeships into fields such as advanced manufacturing. 
Loser: Amazon warehouse workers
Amazon warehouse workers secured the "Loser" title this week after the Supreme Court ruled that Amazon would not be responsible for paying employees for time spent in security checks after the end of workers shifts.
Some Amazon employees reported that getting through company mandated security could take up to 25 minutes after their shifts. However, this was not enough to sway the vote of the Supreme Court. In fact it was a unanimous vote in favor of Amazon, not the workers.
The Supreme Court ruled on the precedent of the federal law called the Portal-to-Portal Act, which states that employers are not responsible for pre- and post- work activities such as waiting in lines to punch out or exit.
 What do you think?
These are my "Winner" and "Loser" for the week, what are yours? Do you think that President Obama's investments in manufacturing will help create job growth in the future? Do you believe that the Supreme Court ruled fairly in the case with Amazon workers?
Please leave your comments and thoughts below.