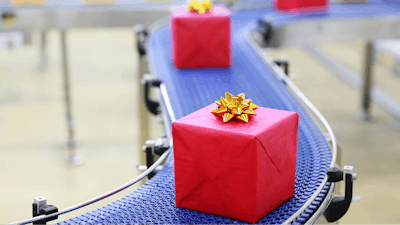 Global pandemic. Vital component shortages. Workforce challenges. A canal blockage. What else could the last 15 months throw at the U.S. industrial sector?
Through all these challenges, manufacturing has responded with solutions. I recently sat down with a collection of supply chain experts and leaders to discuss where these situations have taken the sector, and where we can go from here.
Jeff Reinke, editorial director: If you looked at a manufacturer's current supply chain, and compared it to January 2020, what do you think would be the biggest differences?
Brenda McCurry, Vice President of Supplier Services at ScanSource: The Supply Chain relies heavily on planning and accurate forecasting, and that has been difficult this past year due to unprecedented events like the pandemic, the Suez Canal blockage, and the Colonial Pipeline hack.
Because of unforeseen events, the supply chain industry saw increased demand volumes, restricted capacity, component shortages, rising cost, transportation delays, and labor availability. As a result, in comparison to January 2020, consumers are experiencing longer lead times across all industries. To compensate for these new challenges that we have seen since the start of COVID, the supply chain will need to streamline operations to ensure that the right inventory is available at the right time to meet changing consumer demands.
John Ezzell, Co-Founder and Executive Vice President of BIAS Corp.: Manufacturers have automated more functionality and have become more agile with the help of their IT systems.
Don Buckner, CEO, MadeInAmerica.com: We are seeing many Manufacturers be less concerned about price and more concerned about availability. Many supply chains were heavily dependent on imports for some of the components used in their production, causing them to domesticate their supply chain to improve delivery times and increase control.
Reinke: The COVID situation has led many manufacturers to take a hard look at re-shoring at least some of their production capabilities. Do you think we'll see a legitimate surge in U.S.-based manufacturing as a result?
Buckner: The COVID situation has led many manufacturers to take a hard look at re-shoring at least some of their production capabilities. Based on the feedback from our network of manufacturers, we believe there will be a three to five percent increase in the use of domestic supply chains.
Ezzell: I believe you will see more U.S.-based manufacturing and this will likely spread to more countries re-shoring as large companies look for ways to get their goods to market. Hopefully this spurs job creation and economic growth as a result. I also believe that Asia will have more opportunity as the global economy opens and manufactures look for opportunities to service their growing customer base. India, Vietnam, and other Asian countries that embrace technology will thrive in the post pandemic economy.
McCurry: Manufacturers are looking for ways to reduce the exposure of unforeseen disruptions and to streamline their operational processes. Reshoring or nearshoring will give manufacturers better control of the supply chain and will reduce freight transportation cost – which, in turn, will reduce delivery time.
Reshoring or nearshoring requires additional warehouse capacity, and manufacturers will need to automate many of their operational processes to implement these strategies. They will need to enable their staff to work smarter, faster and more accurately. Automation improvements could include upgrades to software, IT systems, mobile devices, voice solutions, and robotics or artificial intelligence.
Reinke: Also getting more attention due to pandemic-related dynamics is manufacturers investing in IoT-based technologies. How could these investments impact supply chain functions?
Ezzell: We have seen companies effectively use IOT to manage their inventory. For example, one of our customers is using sensors to measure the consumption of their raw materials. We integrated this IoT sensor data with the customer's order management applications so that an order for new materials is automatically generated when their IOT sensors indicate that their inventory has reached a certain level.
In the past, this would have been a manual process that would have involved multiple people, layers of approval, phone calls, emails, etc. Now it is a digital transaction that completes in seconds and leaves a digital paper trail that holds all accountable.
McCurry: Warehouses will need to automate to keep up with the demand, streamline workflows and maintain real-time visibility. IoT solutions enable a warehouse to improve the operational efficiency by giving them real-time product tracking, improved inventory management, reduced risk, and predictive maintenance. Some of the solutions that have been making the biggest impact are:
Autonomous Mobile Robots. They are used to move or handle products within the warehouse. They share the workload of the warehouse worker by reducing the travel of the order picker.
Smart Glasses. These enable a warehouse manager to view visual displays of order picking instructions and information associated with the location of the item. Smart glasses have the capability to increase picking performance and provide better picking accuracy.
RFID and Connected IoT Sensors. These are able to track and monitor the location and status of shipments. These devices can monitor temperature, moisture, and other parameters to ensure the safety and quality of the product being transported.
Reinke: Supply chain visibility has always been vitally important. What new challenges do you see rising on this front, post-pandemic?
McCurry: Real-time visibility is critical to the supply chain. Being able to access real-time data related to the order process, inventory, and delivery – as well as potential supply chain disruptions – is critical to everyone.
eCommerce has been accelerated due to the pandemic and because consumer demands have changed, eCommerce is here to stay. Allowing customers to purchase products from anywhere (in-store or online) will be key, and they'll expect access to real-time information about their orders.
The challenge for manufacturers will be keeping up with this demand and providing customers with more information than ever before.
Buckner: The Pandemic has exposed many weak links in everyone's supply chains. We see a movement towards nationalizing supply chains and a trend back to relationship suppliers, where they become partners and have full visibility into the production schedules.
We also see a desire to hold more raw material in inventory in fear of running out of supply, but this only exasperates the problem by emptying the pipeline, just like the situation with toilet paper back in April of 2020. The severe shortages in raw materials are causing significant price increases, but this should level out by the end of the year.
Ezzell: I believe we will see the requirement for more transparency in the supply chain. This will involve blockchain and immutable contracts that will require manufacturers, companies and government agencies within the supply chain to integrate their systems to allow the consumer to trace the goods that they are purchasing from origin to consumption.
This will be a challenge for many existing companies and agencies that have traditionally held this data as proprietary. Cloud computing has the capability to solve this, but the organizations will need to agree on the protocols.
Reinke: If you could provide supply chain professionals with one gift, one wish granted, one super power, etc. what would it be?
Ezzell: Agility- the ability to move quickly and easily. Our global economy is coming back and will surge to even higher levels as our population increases and more global consumers go online. The U.S. can use the lessons learned in the global pandemic to do more with less, and to leverage automation across all functions of their business so that they can serve their customers better in the future.
Buckner: The ability to see the future clearly. Many today are in a no-win situation. They get hammered by management to hold a balance of low inventory and get inventory here in time for production, and the pressure from folks on the production line hoping inventory shows up on time so they don't have to go home.
It only takes one item to stop production. They have one of the most difficult positions in the world of manufacturing today. The entire future of the company is determined by their ability to perform every day, every time on time.
McCurry: I would provide them with the super power of unlimited knowledge. Being able to understand exactly what is happening in the industry and how to adapt processes to meet the ever-changing supply chain world is a major asset to any distribution center professional.