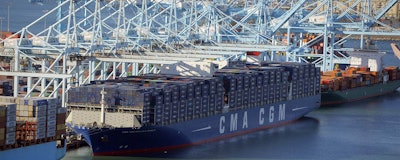 One of the new U.S. administration's most important self-set goals is to make America less dependent on the import of foreign goods. This is going to be a pretty hard thing to do because the U.S. imports many more goods and services than it exports. As our infographic shows, the deficit has been much bigger in the past and has now de facto stagnated at a relatively high level for the past three years ($-490b, $-500b, $-502b).

It will be interesting to see how the Trump administration's policies will impact on the trade balance. Some economists suggest that curbing the trade deficit will inflate prices in the U.S. The last time the trade balance came down considerably was after the 2008 economic crisis which led to recession and had a dampening effect on world trade. Visit the Federal Reserve Bank of St. Louis for more data.
This chart shows the annual U.S. trade balance of goods and services since 1992 (in million dollars).