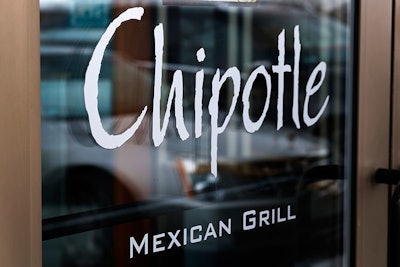 NEW YORK (AP) — Chipotle shares continued to fall Monday as the chain faces the first decline in a key sales figure after an outbreak of E. coli linked to its restaurants.
The chain known for touting its quality ingredients said Friday it expects sales to drop between 8 percent and 11 percent at established locations for the fourth quarter if current trends continue. That would mark the first time the figure fell since Chipotle went public in 2006.
Chipotle's stock was down 4.3 percent at $537.17 in midmorning trading Monday.
In a filing with the Securities and Exchange Commission, Chipotle said sales have been "extremely volatile" since it closed restaurants in Oregon and Washington in early November as a result of the outbreak. Sales plummeted by as much as 22 percent as additional cases were reported, and were down 16 percent for November.
The Centers for Disease Control and Prevention had said earlier Friday that the outbreak had widened and sickened 52 people in nine states. It has not yet identified the ingredient that made people sick.
The first cases were reported at the end of October, and the agency said the most recent illness started on Nov. 13
About 48 million people get sick from a foodborne illness each year, according to the CDC.
Chipotle, based in Denver, says whatever the likely ingredient was that made people sick is out of its restaurants and that it is adopting stricter food safety standards.
The company, which has benefited from marketing its use of local ingredients, said some of its local produce suppliers might not be able to meet the new standards. Locally sourced produce accounts for a "relatively small percentage" of the produce the chain uses, said Chris Arnold, a Chipotle spokesman.
Jeffrey Bernstein, a Barclays analyst, noted that fast-food chains have recovered from similar foodborne illnesses in the past. But he said Chipotle's recovery will likely take longer given greater social media awareness.
Bernstein also noted that Chipotle is known for its "Food with Integrity" slogan, which makes the E. coli cases "all the more damaging."