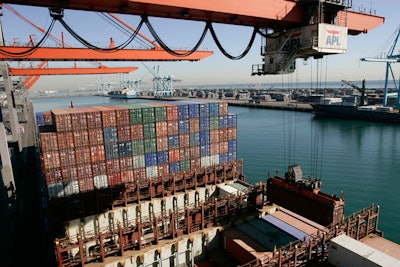 Officials representing West Coast ports on Monday alleged dockworkers have deliberately ground shipments at several large ports to a near-halt amid an ongoing labor dispute.

The Pacific Maritime Association, which represents shipping line and terminal operators at ports along the Pacific Coast, said shipping backups are "approaching complete gridlock" at five ports, including Los Angeles and Long Beach -- two of the nation's largest ports and most critical links to Asian markets.

About 20,000 dockworkers represented by the International Longshore and Warehouse Union have been working without a contract since July, when a six-year deal with the PMA expired. PMA officials argued those employees have deliberately withheld essential skilled worker shifts since October, "stifling productivity and putting West Coast port terminals at the brink of full shutdown."

"The PMA has a sense of urgency to resolve these contract talks and get our ports moving again," said Steve Getzug, the group's spokesman. "Unfortunately, it appears the union's motivation is to continue slowdowns in an attempt to gain leverage in the bargaining."

Union officials disputed those claims, accusing management of cutting shifts in an effort to gain the upper hand in negotiations.

"The employer is making nonsensical moves like cutting back on shifts at a critical time, creating gridlock in a cynical attempt to turn public opinion against workers," said ILWU President Bob McEllrath. "This creates an incendiary atmosphere during negotiations and does nothing to get us closer to an agreement."

Federal mediation to resolve the contract dispute began last week, though both sides say little progress has been made. A tentative agreement on health care benefits has been in place since August, but management says issues such as work rules, wages and requirements on the use of union workers in certain positions remain unresolved.

The National Retail Federation called on the Obama administration to get involved late last year, and last week called for additional urgency amid projections of rising import volume in 2015.