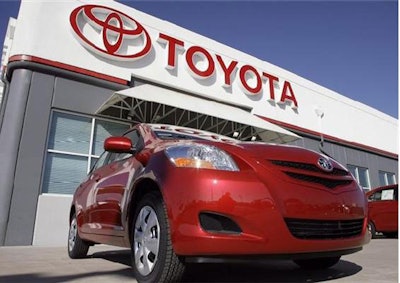 TOKYO (AP) -- Toyota's quarterly profit soared 70 percent, and the world's top-selling automaker raised its earnings forecast, as cost cuts and the weaker Japanese yen compensated for slightly weaker vehicle sales.
The Tokyo-based maker of cars such as the Prius and the Camry said Wednesday its July-September net profit rose to 438.4 billion yen ($4.4 billion) from 257.9 billion yen a year earlier.
Profits at Japanese automakers have surged in yen terms as the Japanese currency weakened against the U.S. dollar over the past year, helped by a mammoth Bank of Japan effort to expand the money supply and ignite inflation to end years of economic stagnation.
Nissan Motor Co., Japan's second-largest automaker, booked only a 2 percent increase in quarterly profit, but without the bump from the yen its situation would have been worse. Honda's quarterly profit rose 46 percent and earnings at mid-size automaker Mitsubishi Motor Corp. nearly tripled.
A year ago, the yen was trading at about 79 to the U.S. dollar. Now it is just under 100 to the dollar. Any further substantial gains in profits for Japan's auto industry will have to come from cost cuts, stronger sales or other competitive improvements.
Toyota Motor Corp. has been the biggest beneficiary of the weaker yen, gaining 280 billion yen ($2.8 billion) in net income in the latest quarter from foreign exchange effects.
The automaker raised its earnings forecast for the fiscal year ending March 2014 to 1.67 trillion yen ($16.9 billion). But it kept its sales forecast at 9.1 million vehicles, anticipating that higher than expected sales in Japan, North America and Europe will be countered by lower sales in Asia.
Quarterly sales slipped to 2.24 million vehicles from 2.25 million vehicles a year earlier.
Toyota last month said its global sales for January-September this year totaled 7.41 million vehicles, little changed from the previous year but outpacing General Motors to keep its lead as the world's top-selling automaker.
GM lost the global sales throne to Toyota for the first time in 2008 but retook the crown in 2011, when Toyota's plants were stymied by an earthquake and tsunami in northeastern Japan that damaged parts suppliers. Toyota recovered the lead last year.
While rivals GM and Germany's Volkswagen AG have been growing in China, Toyota's sales have suffered from anti-Japanese sentiment that flared up last year over territorial disputes.
Toyota's growth has come largely from the popularity of the Camry, Corolla and Tundra in the U.S. The company's sales number includes heavy trucks made by Toyota's group company Hino Motors, so the competition is hotter when such models, which GM lacks, are excluded from Toyota's tally.
The revival of U.S. automakers and strong line-ups from European and other Asian car makers present a challenge to Toyota, said Karl Brauer, senior analyst for Kelly Blue Book.
"This increased global competition means increased pressure on Toyota to introduce new and better products while controlling costs and maintaining profitability," he said in a commentary.
Japanese automakers have struggled with costly recalls over the past few years, another pitfall for profitability. In announcing a management reshuffle last week, Nissan's CEO and president Carlos Ghosn emphasized his impatience over the car maker's recent troubles with quality glitches, saying they demanded "immediate action."
Toyota's president Akio Toyoda likewise has stressed his determination to avoid quality lapses similar to those that led to a massive recall fiasco in the U.S. that came on the heels of the financial crisis.
Toyota's half-year profit rose 83 percent to 1 trillion yen ($10.1 billion).
The company increased its capital spending plans by 20 billion yen ($203 million) to 940 billion yen ($9.5 billion).
---
More from MBTMag.com
Open Text Buying GXS Group In $1.17B Deal
GT Advanced Technologies Strikes Deal With Apple
Measure Of U.S. Economy's Health Rises
Explore more news

here

.