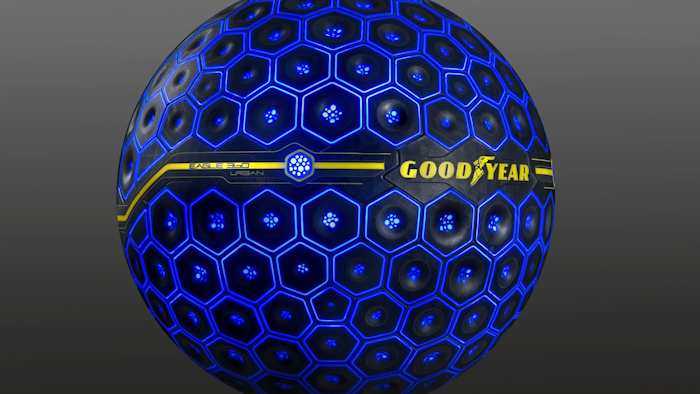 As we're rapidly heading toward a connected society, Goodyear plans to add to that vision with smart, connected tire technology.
At this year's Geneva International Motor Show, Goodyear unveiled the Eagle 360 Urban — its latest concept tire. The entire sphere is 3D-printed and is able to transform, interact and make decisions within its environment.
Remarkably, this is the first concept tire to be completely powered by artificial intelligence.
"A revolution will take place at the intersection of autonomy, mobility, and connectivity," says Jean-Claude Kihn, president of Goodyear Europe, Middle East, and Africa. "To safely navigate their surroundings, the autonomous vehicles of the future will need to learn to cope with the millions of possible unknowns we face in every day driving scenarios. To do so they will need access to data and the ability to learn and adapt."
The Eagle 360 Urban is an upgrade to the Eagle 360, which was the company's 2016 design. Goodyear has now created a tire with brain-like power, combining morphing tread and a bionic skin. The tire will have IoT connectivity and will respond rapidly to the ever-changing circumstances while on the road.
The bionic skin is embedded with a network of sensors that will allow the sphere to check its own status, as well as discern environmental information. The concept tire's skin is made of a super-elastic polymer, which enables it to expand and contract similar to that of humans. Due to this increased flexibility, the tire's actuators can re-form certain sections of the tire's tread design.
In the event that the concept tire sustains damage, the embedded sensors can detect and locate the weakened area. Once the issue is pinpointed, the tire will rotate so a different non-damaged part of the sphere has direct contact with the ground. Not only does this rotation reduce pressure on the puncture, but it allows the material to self-heal. The malleable skin will be able to form new molecular bonds and fix the tire's ailments.
To learn more, watch the video below.