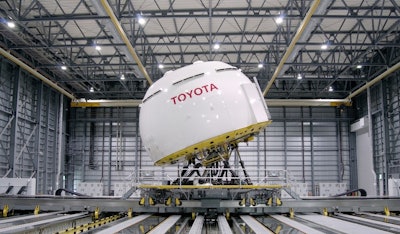 At a conference in San Jose last week, Toyota announced a new effort aimed toward making vehicles safer. Where many automakers are putting their money behind full autonomy, Toyota has instead chosen to support human drivers with "guardian angel" technology.
Gill Pratt, CEO of the Toyota Research Institute, also announced the addition of a third TRI location near the University of Michigan campus in Ann Arbor, Michigan. TRI, a five-year project given $1 billion in funding, already has similar relationships with Stanford and Cambridge to aid in the effort by studying artificial intelligence and robotics.
"In the same way that antilock braking and emergency braking work," said Pratt, "there is a virtual driver that is trying to make sure you don't have an accident by temporarily taking control from you."
The driver would always be fully engaged and responsible for piloting the vehicle, but the guardian angel system would be monitoring the road in the background. In case of hazards, the vehicle would take over and cause the car to speed up, slow down or adjust its lane position.
While the push for fully autonomous cars continues, this type of semi-autonomy could prove to be both a useful stepping stone as well as a viable option for those who want to pilot their own vehicles. Even for vehicles that have an autonomous mode that can be turned on or off, studies show that it can take the driver up to 8 seconds to re-engage, cites the MIT Technology Review.
The system is still in development and will require millions of miles of testing before it's ready to be deployed, but many of those miles will be put on in Toyota's testing facility in Mount Fuji, Japan. The huge moving simulator will monitor how humans react to the systems' involvement during crashes.
Would you be interested in "guardian angel" technology for your vehicle? Where else do you think semi-autonomous safety nets could be employed? Comment below or tweet @KatieeMohr.