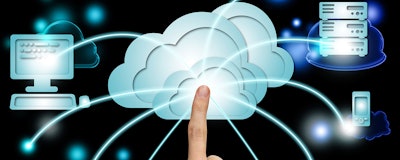 Digital transformation is defined in an MIT Sloan Management Review article as "the use of technology to radically change the performance or reach of enterprises". When thinking of digital transformation, businesses such as Uber and Lyft come to mind, as they harness mobile technologies to manage workforces and service offerings that disrupt traditional taxi companies.

But according a new Enterprise Software Mobility and Digital Transformation study of 200 industrial executives, mobility represents just as large of an opportunity for industrial organizations as it does for the likes of Uber.

Manufacturing digital transformation and mobility are symbiotic

The IFS study suggests that companies with employees accessing enterprise systems from mobile devices, such as enterprise resource planning (ERP), enterprise asset management (EAM) or field service management (FSM) , were more prepared for digital transformation than their less-mobile peers.

Mobile forward companies in the minority

Interestingly, respondents who said their enterprise software prepared them well for digital transformation were more than twice as likely to access their software from a mobile device than those who said their software did a poor job of preparing them. These mobile-forward companies are in the minority though, as only 31 percent of respondents said they access enterprise software from a mobile device.

No mobile, no manufacturing servitization
IDC predicts that by 2018, only 30 percent of manufacturers investing in digital transformation will be able to maximize its outcome - the rest will be held back by outdated business models and legacy technology.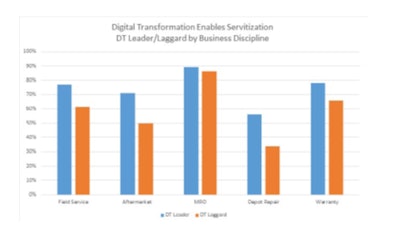 Servitization of the manufacturing sector has a heavy mobile component. Servicing capital assets and durable goods needs a fleet of field service technicians requiring mobile enterprise systems to facilitate, at the very least, completion of work orders.

But delivering a successful customer experience and subsequently driving more revenue requires more than just work orders. Technicians and back office managers need access to data to ensure each dispatched truck is stocked with the right amount of inventory, and that demand for spares, repairs and consumables is adequate for projected demand. All of this requires excellent integration with enterprise resource planning and other back office systems.

Progressive service organization managers must also be able to automate scheduling and dispatch of the correct equipment based on where the technician is located. Technician location should also automatically trigger notifications to the customer regarding their proximity and estimated time of arrival. These requirements mean enterprise software must leverage geolocation features of a mobile device.

Technicians also need to access detailed product specifications, video tutorials and other rich media to ensure they have the guidance to successfully complete each service task. This places a demand on mobile enterprise software and its ability to leverage features of a mobile handset.

One device, many benefits

The transformative potential of enterprise mobility for industrial companies is real. Mobile access to software including ERP, EAM and FSM can bring many benefits – here's a snapshot:

- Enable accurate and real-time collection of enterprise information for more efficient operation and executive decision support

- Improve the customer experience in field service environments

- Increase the productivity of technical staff by allowing them to interact with systems like EAM or computerized maintenance management systems (CMMS) while in the field or on the plant floor

- Enable workers and enterprise systems to harness advanced features of mobile devices including geolocation and cameras

- Improve the amount and quality of information available to those servicing assets or customers, allowing for better first-time-fix rates in field service environments, more reliable troubleshooting and less downtime in a plant environment

- Allow users to engage with software systems more frequently, increasing the return on investment for enterprise software

Last but not least - mobile transformation means real engagement

This last benefit, increased engagement with enterprise systems, may be the most significant transformative element of enterprise mobility, according to Rick Veague, IFS's Chief Technical Officer in North America.

"Mobile is the most obvious manifestation of digital transformation," Veague said. "But when people use enterprise software from a mobile device, it indicates that the system is the lifeblood of the business. Your employees can connect into those core processes and participate even if they are not sitting at their desk. If you cannot do this, you will struggle with anything in digital transformation."

From transforming processes within the four walls of a plant to outward bound field service management, mobility matters for manufacturers more than ever.