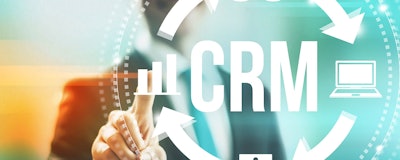 CRM has taken most companies by storm, but as a manufacturer, perhaps you don't see the utility for your business. You believe that most of your revenues are from repeat sales to existing customers. Besides, a CRM is nothing more than an electronic Rolodex, right?
CRM is much more than that and today's systems have features and functionality that can boost productivity in an area you may not consider very often — your sales department.
Consider how much attention you have given to improving your manufacturing processes to be more effective and efficient. Have you given your salespeople the same attention and tools to help them perform better? You may find that sales and marketing have been hoping you would say the magic words, "How would you like a Customer Relationship Management System?"
What Is a CRM?
Although the letters stand for Customer Relationship Management, CRM solutions have grown to include every phase of sales and customer support.
The database holds information about current customers, prospects, vendors, accounting and point of sale.
The CRM tracks lead generation efforts and website metrics.
It has an email function to streamline lead nurturing.
It provides reporting to track performance and competitors as well as forecast sales.
A CRM makes it easy to personalize the experience for each lead and customer.
The sales department can use the CRM to issue and track quotes, invoices, and orders, saving them time to pursue more leads and close more sales.
CRM Benefits Your Entire Business
In manufacturing, automation created the greatest efficiency, saving money on operational costs and allowing the business to grow unfettered by manual processes. CRM does the same for sales, marketing, and customer service.
How many hours do your sales and marketing people spend looking for customer information, entering into one or more systems, and attempting to track leads? With CRM, your staff would have the time and the data to create and coordinate targeted marketing campaigns across channels. They could nurture leads through the buyer's journey with automated email responses keyed to specific segments of the marketing and sales funnel.
CRM can contain a variety of features and functionality that improve invoicing, billing, and project management within the marketing and sales department. The technology brings marketing and sales together to run integrated campaigns with the advantage of metrics and data.
Autoresponders and notifications are just two of the features that streamline generating and tracking leads, qualifying them, and moving them towards a closed sale. CRM is a comprehensive sales, marketing, and customer service solution capable of integrating with third-party applications and ERPs.
How to Select the Best CRM for Your Manufacturing Company
Before you start searching the internet gather a cross-functional team that includes representatives from sales, marketing, and other areas that expect to use the solution. The people in the trenches have a better idea of what will and won't work because they interface with the current system every day. Bringing in the end-users also increases buy-in and adoption rates after purchase.
Ask each member to present the current workflow, including bottlenecks and where the lack of data reduces effectiveness.
Analyze reports now available to the team and ask how they could be improved.
Determine how the team measures the performance of marketing and sales assets as well as team and individual performance.
Develop a list of the systems and software with which the CRM must integrate and communicate.
If possible, calculate the cost of the current processes, so you have a benchmark to measure the potential impact of a CRM system.
Now you have a list of requirements that will help you find potential solutions and narrow your selections to a short list before you contact the vendor. Be sure to include the type of business you run. You may be able to find a vendor that caters specifically to your niche and who understands your business. When you are ready, begin a conversation with each CRM company.
Tell them the problem you want to solve rather than providing a list of features. A good CRM vendor can provide valuable insight into the best ways to resolve your problem.
Ask the vendor to work with your team to create a business case using the potential CRM solution. From this, you can learn the expected return on investment, the total cost of ownership, and the value the solution brings to your business.
Find vendors who can provide demonstrations of their solution using some of your data to show your team how the software is expected to help.
Enroll in a free trial, so your team can experience the software and its ease of use, potential for customization, and its limitations.
Other considerations include whether to select a cloud-based system or an on-premise solution. Cloud-based solutions provide excellent mobile capabilities, important for field sales. If your team relies on smartphones, tablets, and laptops in the field, accessing the solution while away from the office is a requirement.
As you continue your selection process, ask the vendor about the security of the system and what it is prepared to do in the case of a data breach. Pay attention to their guaranteed up-time and ask about the types of training, implementation, and customer support provided with their CRM.
Manufacturing is a complex sale, one that is eminently suited to the use of a CRM. Long sales cycles and a plethora of content is easily managed within a comprehensive solution that can store all your customer data, marketing content, sales metrics, and funnel reports. The amount of time needed to perform all these activities is cost and labor prohibitive.
Use CRM to automate processes to obtain actionable data, so marketing can accurately target your intended buyers, generate qualified leads, and nurture them until they are ready for sales contact. Your sales team will have all the information needed to understand each buyer and build a presentation that shows your business as the best manufacturing solution for their business.
Steve Wright is Vice President of Information Services at Whirlwind Steel.