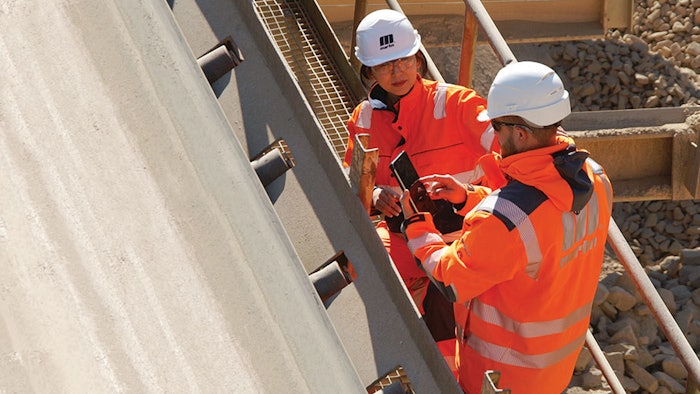 A global leader in conveyor operation and safety has announced another expanded offering in its extensive line of training modules. The new FOUNDATIONS Plus seminar from Martin Engineering is designed to provide a methodology for assessing risk and analyzing life cycle costs, helping attendees develop a deeper understanding of the true return on investment from conveyor upgrades to increase safety, efficiency and profitability. 
Based on the company's highly successful FOUNDATIONS conveyor training series that has been educating operations, maintenance and management personnel for more than 20 years, the expanded session begins with the complete Operations & Maintenance Seminar on day one.  Content is focused on practical solutions to the problems commonly experienced with controlling dust, spillage and carryback to keep conveyors running safely and at full availability.
The new module adds a full day to the program and includes a complete walking inspection, action plan and proposal for upgrades.  "FOUNDATIONS Plus takes the Operations & Maintenance module to the next step," commented Training Manager Jerad Heitzler. "It's been developed for plant and mine managers who not only want a highly skilled conveyor workforce, but also want to maximize the benefits of improved system performance."
The new class offering also includes multiple copies of FOUNDATIONS for Conveyor Safety, the newly-published reference volume from Martin Engineering that delivers an unprecedented collection of information assembled specifically to help conveyor system operators achieve safer production. To assess the true value of system upgrades, the book includes ground-breaking methodology for calculating the payback from safety investments, sometimes referred to as ROCSTM for Return On Conveyor Safety.  It's believed to be the world's first aggregation of global best practices dedicated to reducing conveyor risk and injuries.
"The book is really a global roundup of best practices to keep safe those who must work on or around belt conveyors," observed lead author Todd Swinderman. "Part of that is recognizing the hazards, hardware systems and work practices that will improve safety. But it also includes content on how to design conveyors to be safer, and how to justify the expenses for those improved systems." 
The company's original FOUNDATIONS Training Program includes customizable seminars on the design and development of more productive belt conveyors, as well as an advanced module for managers, engineers, and health, safety and environmental personnel. Training is available to suit individuals with varied levels of experience and responsibility, from new hire to senior engineer.  The sessions are designed as a primary education on conveyor operations, risks and performance, helping attendees enhance capacity and reduce downtime.
Together, the reference book and training modules serve as components of a powerful educational tool. "We believe that industry education is critical to continued advancements in safety and productivity, and it's more true now than ever," Heitzler said. "As experienced employees across a wide range of industries are retiring, it creates an acute need to pass on knowledge to a new generation of workers."