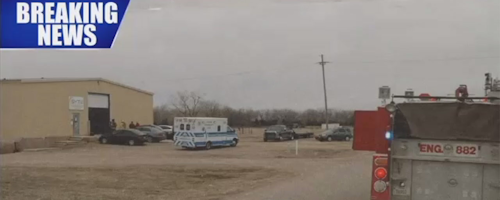 Nearly 20 employees at a Kansas manufacturing plant were treated after carbon monoxide exposure earlier this week.
According to reports, 18  of the 21 employees at SYT USA in Reno County were sent to the hospital on Monday, Feb. 13 after exposure to carbon monoxide in the workplace. Everyone was treated and released from the hospital on Monday.
SYT USA CEO Alex Birkenfeld said the hospitalizations were a precautionary measure after emergency medical personnel conducted on-site evaluations.
Emergency personnel were called to the manufacturing facility for an unknown chemical mixture in the air after employees started complaining of headaches. According to Emergency Management Director Adam Weishaa, first responders were told people inside the plant were vomiting and defecating.
When firefighters arrived on scene they indicated that carbon monoxide levels were high, which prompted an evacuation. Weishaa told The Hutchinson News that firefighters are required to wear respirators and gear when carbon monoxide levels are over 35 parts per million, and measurements inside the plant topped 120 parts per million when firefighters first arrived.
SYT USA manufactures fiberglass parts and composite parts. A leak in a gas heater is being blamed for the exposure. The heater has been shut down.