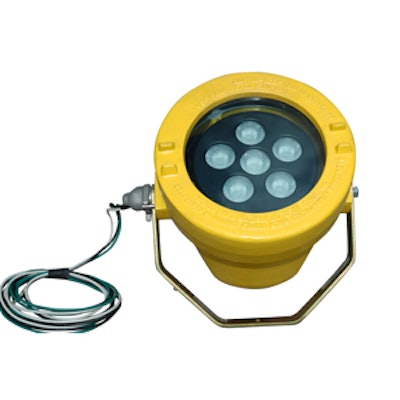 Larson Electronics' Magnalight.com now offers the EPL-21-IRLED as an explosion-proof, portable, infrared LED light for low-voltage power requirements.  According to the company:
The low-voltage design is suitable for use in hazardous areas with an area classification from UL Class I & II, Division 1 & 2 and can be operated in wet environments as it is water tight.

 

The illumination produces a flood beam that is approximately 160 feet long by 125 feet wide and is housed in a portable, durable, explosion-proof packaging.

 

It is available in two different frequencies, 850 Nm for use with general night vision devices and security cameras or 940 Nm, which is for use with military night vision equipment.

For low-voltage operation, it has an in-line step down transformer to convert 110 to 277 VAC to 12 volts.

 

This rugged portable light is invisible to the naked eye and will withstand high vibration areas.

 

From a durability standpoint, the light is constructed with a copper-free aluminum shell with a powder coated finish.

 
sales@magnalight.com

www.magnalight.com