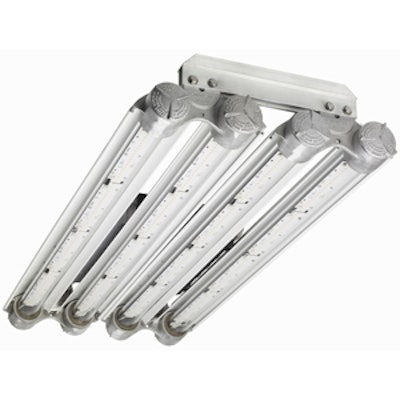 RIG-A-LITE's XP LED series luminaires are available in 2- and 4-foot lengths, each with multiple lumen packages. According to the company, the luminaires feature:
Suitability for onshore and offshore drilling rigs, refineries, chemical plants, wastewater treatment facilities, paint booths and other areas requiring illumination

plus

protection from explosive gases and compounds, extreme temperatures, corrosive elements and other severe and hazardous location challenges.

3500K, 4000K or 5000K CCT.

 

Replaceable Class 2 Philips integral LED driver & circuit boards.

High efficacy — up to 116 lumens per watt (based on 4000K CCT).

Suitable for -20 to 55º C ambient.

Corrosion-resistant, low-copper (<0.4 percent) aluminum construction.

LEDs sealed in explosion-proof, impact- and heat-resistant glass tubes.

A number of product certifications.