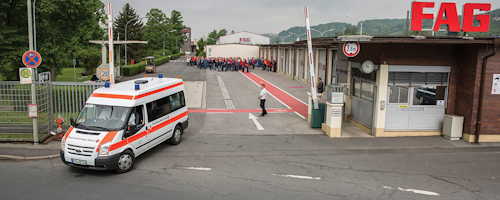 More than 20 people were injured in an explosion Monday at a Schaeffler facility in Germany.
Reuters reports that the explosion occurred at a cleaning facility for industrial salts at the Schaeffler plant in Eltmann, Bavaria. Schaeffler is a global supplier of automotive and industrial parts. The Eltmann plant makes rolling bearing components.
The Associated Press reported that 13 people were injured in the incident, however in a statement on the company's Facebook page, Schaeffler reported that 23 people were injured. Seven of those individuals were transported to hospitals for medical treatment while others were discharged immediately following outpatient care.
The explosion was reported to police around 8:15 a.m. GMT. More than 120 firefighters — as well as police and other emergency personnel — tended to the scene.
In another Facebook statement, Schaeffler extended thanks to the emergency personnel that assisted at the site.
"Our thoughts are with all injured persons and their families," the post read.
Both police and Schaeffler report that the public was never in any danger and that no hazardous or toxic substances were released.
Schaeffler said 90 percent of the production lines are up and running again and they don't expect any impacts to their customers.
Schweinfurt police and prosecutors are investigating the incident.