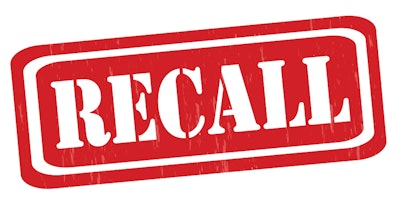 WASHINGTON, May 11, 2017 (USDA FSIS news release) — NY Livestock Market, Inc., a Brooklyn, N.Y. establishment, is recalling 1,495 pounds of poultry products that may be contaminated with the antibiotic nitrofurazone, the U.S. Department of Agriculture's Food Safety and Inspection Service announced Thursday.
The whole young chickens were produced and packaged on April 10, 2017. The following products are subject to recall:
Brown shipping bags containing various quantities of 4.9-lb. young whole chickens, with head and feet intact, with "NY LIVESTOCK MARKET, INC. BUDDHIST RELIGIOUS EXEMPT (Eviscerated Poultry)" printed on the label.
The products subject to recall bear establishment number "P-45068" inside the USDA mark of inspection. These items were shipped to restaurants and retail locations in New York state.
The problem was discovered through routine testing performed by FSIS inspection personnel for the National Residue Program, which revealed the sample was violative for nitrofurazone, a residue of public health concern.
There have been no confirmed reports of adverse reactions or illnesses due to consumption of these products. Anyone concerned about an injury or illness should contact a healthcare provider.
Consumers who have purchased these products are urged not to consume them. These products should be thrown away or returned to the place of purchase.