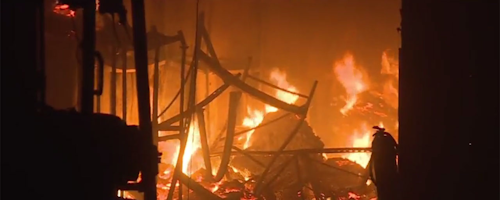 A Texas aluminum manufacturing building was destroyed this week by a fire caused after a bottle of compressed nitrogen fell into molten metal.
According to reports, On Wednesday, around 3:30 a.m., an Anderton Castings employee was working on a piece of equipment when a nitrogen bottle fell from above the die-casting machine into the molten metal. Officials say the bottle exploded, shot straight up into the air and caught the ceiling on fire.
The employee was wearing protective gear at the time of the incident and wasn't injured. The other 50 employees in the building also evacuated the building without injuries as the flames quickly spread throughout the 142,000-square-foot building.
Officials say some of the machines in the plant were not damaged and estimate the plant could be back in business within a month.
The Troy, Texas Anderton Castings facility makes auto parts and employs around 300 people. The company has other facilities in Mexico and France.
KCENTV reports that Anderton Castings, previously known as C&H Die Casting Inc., has a history of exposing employees to dangerous situations and was previously cited by the Occupational Safety and Health Administration (OSHA).
According to OSHA records, the company was fined $112,500 in 2013 after inspectors found 24 serious health and safety violations — including using spliced electrical cords. A follow-up inspection in 2014 found workers were still being exposed to the same shock hazards — in addition to another 14 serious safety hazards. Those citations carried a $44,400 penalty.
"OSHA investigators also witnessed an employee in the furnace area pouring hot metal into dies without proper protective equipment, which exposed him to burn hazards," the Department of Labor said in the 2014 press release.