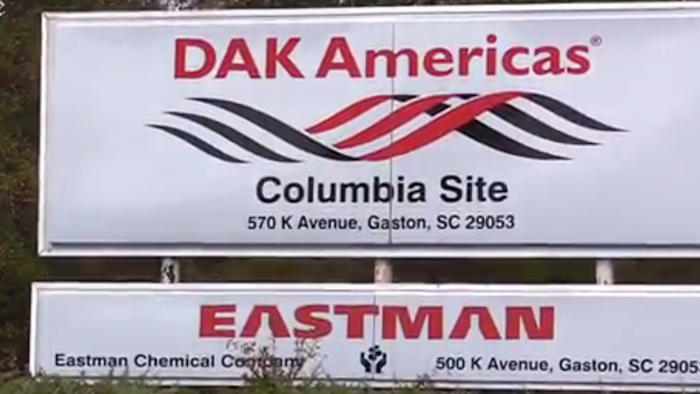 One employee has died, and two others suffered serious injuries, following an incident at an industrial plant in South Carolina.
Authorities say the accident occurred around 12:15 p.m. on Tuesday, Dec. 6 at the DAK Americas plant in Calhoun County, SC. Alton Zeigler, 63, of Columbia, was identified as the man killed in the accident.
The two other employees were taken to a local hospital with chemical burns.
"Certainly, this is a shocker to all these employees, and again, our thoughts and prayers are with the employees that have been impacted," DAK Americas Public Affairs Director Ricky Lane stated.
According to site manager Mark Leonhardt, the three employees were conducting annual maintenance on a polymer pump when the accident occurred. The line involved produces polymer, the main product produced at the facility. The polymer is used for carbonated soft drink and water bottle containers.
"Something malfunctioned and the polymer escaped from its container and it spilled over three victims," Calhoun County Coroner Donnie Porth told WECT.
Leonhardt told reporters that this is the "worst incident" the company, which has been in operation since 2001, has ever had.
"We have a very good safety record," Leonhardt said. "This is just a very, very unfortunate incident. We're all just heartbroken by this."
DAK Americas is one of the largest employers in Calhoun County, employing about 425 people. According to it's website, the company produces PET resins and polyester staple fibers.