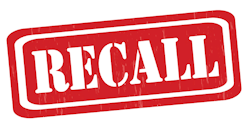 WASHINGTON, June 13, 2018 (USDA FSIS release) — HF Food Distributors, a Orocovis, Puerto Rico establishment, is recalling 142 pounds of sliced cooked ham products that were produced without the benefit of federal inspection, the U.S. Department of Agriculture's Food Safety and Inspection Service (FSIS) announced Wednesday.
The ready-to-eat sliced cooked ham products were produced and packed on April 21, 2018. The following products are subject to recall:
1-lb. plastic-wrapped packages of "JAMON COCIDO REBANADO" with a sell by date of "May 25, 00" on the label.
The products do not bear an establishment number, mark of inspection, or an ingredients statement. These items were shipped wholesale to Head Start centers in Puerto Rico. USDA provides reimbursement for meals served in Head Start through the Child and Adult Care Food Program; however, these products were purchased commercially. The products were not provided or purchased by USDA's Food and Nutrition Service.           
The problem was discovered on June 8, 2018, when FSIS performed recall effectiveness checks for FSIS Recall 044-2018.
There have been no confirmed reports of adverse reactions due to consumption of these products. Anyone concerned about a reaction should contact a healthcare provider.  
FSIS is concerned that some product may be frozen and in consumers' freezers. Consumers who have purchased these products are urged not to consume them. These products should be thrown away or returned to the place of purchase.