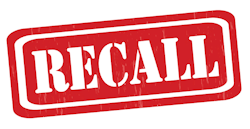 WASHINGTON, Aug. 26, 2017 (USDA FSIS release) — Ronald A. Chisholm, Ltd., a Toronto, Ontario establishment, is recalling 12,169 pounds of skinless pork belly products that were not presented at the U.S. point of entry for inspection, the U.S. Department of Agriculture's Food Safety and Inspection Service (FSIS) announced Saturday. Without the benefit of full inspection, a possibility of adverse health consequences exists.
The products were produced and packaged from June 27, 2017 to July 20, 2017. The following products are subject to recall:
Approximately 40-lb. cardboard box containing "FLANC PORC, PORK BELLY."
The products subject to recall bear case code "815157" and establishment number "10" inside the Canadian Food Inspection Agency (CFIA) mark of inspection. These items were shipped to restaurants in Hawaii.
The problem was discovered on Aug. 23, 2017 by FSIS while conducting routine failure to present monitoring activities. FSIS discovered that a shipment of skinless pork belly products had entered the United States from Canada on or about July 29, 2017 and did not receive import inspection. The products were distributed to single distributor and three federal establishments.
There have been no confirmed reports of adverse reactions due to consumption of these products. Anyone concerned about a reaction should contact a healthcare provider.  
Consumers who have purchased these products are urged not to consume them. These products should be thrown away or returned to the place of purchase.