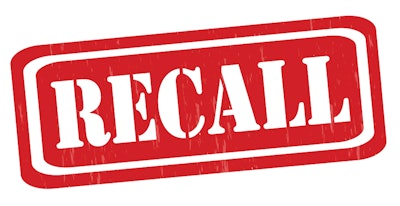 WASHINGTON, Aug. 26, 2017 (USDA FSIS release) — Blossom Foods, LLC, an Oakland, California establishment, is recalling 15,092 pounds of beef, chicken and pork products due to misbranding and undeclared allergens, the U.S. Department of Agriculture's Food Safety and Inspection Service (FSIS) announced Saturday. The products contain soy and wheat, known allergens, which are not declared on the product label.
The frozen assorted meat and poultry items were produced from Aug. 23, 2016 to Aug. 23, 2017 and bear an expiration date that is one year from the date of packaging. The following products are subject to recall:
6.6-lb. case of "Barbequed Beef, Corn, Baked Beans"
5.5-lb. case of "Barbeque Beef"
10-lb. case of "Savory Beef"
5.5-lb. case of "Sesame chicken
10-lb. case of "Spanish Beef"
5.5-lb. case of "Barbeque Pork"
5.5-lb. case of "Breakfast Sausage"
10-lb. case of "Beef"
6.5-lb. case of "Chicken and Dumplings, Peas, Rutabaga"
The products subject to recall bear establishment number "EST. 51200" or "P-51200" inside the USDA mark of inspection. These items were shipped to institutional locations in California and Ohio.
The problem was discovered on Aug. 22, 2017 when FSIS Inspection Program Personnel observed that the establishment utilizes a soy protein concentrate in the production of several products, but the finished product labels do not declare soy. In addition, some of the same products contain wheat flour and wheat is also not declared on the finished product labels.
There have been no confirmed reports of adverse reactions due to consumption of these products. Anyone concerned about an injury or illness should contact a healthcare provider.
Consumers who have purchased these products are urged not to consume them. These products should be thrown away or returned to the place of purchase.