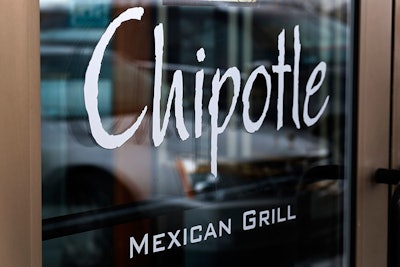 NEW YORK (AP) — Chipotle says a Virginia store that was temporarily closed because of a suspected case of norovirus will reopen Wednesday, after "multiple teams performed complete sanitizations of all surfaces."
The store outside Washington, D.C. closed Monday after Chipotle became aware of reports of illnesses. The chain said the reported symptoms were consistent with norovirus, which can cause vomiting and diarrhea. Norovirus is a leading cause of outbreaks from contaminated food, and infected employees are a frequent source of the outbreaks, according to the Centers for Disease Control and Prevention.
Chipotle said norovirus doesn't come from its food supply, but company shares fell more than 4 percent Tuesday, underscoring its vulnerability following its food scares in 2015. They were down again about 1.2 percent on Wednesday.
The company said Wednesday that its procedures are designed to provide quick detection in the rare cases where such events occur. It outlined a number of steps it has taken since an E. coli outbreak, such as the creation of a food safety council and the implementation of additional food handling and preparation procedures.
"We continually strive to find new and innovative ways to ensure that our restaurants are safe," CEO Steve Ells said in a statement.
Chipotle had previously said the store would reopen Tuesday. David Goodfriend, director of the Loudoun County Health Department in Virginia, said his office recommended keeping the store closed an extra day as a precaution. Goodfriend said that would reduce risk if there were any employees who were infectious, and give time for extra cleaning.
Goodfriend says a stool sample was collected and sent to a state lab in Richmond for testing of norovirus.