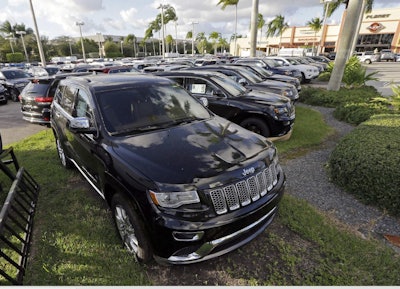 Fiat Chrysler is recalling nearly 710,000 Jeep and Dodge SUVs in North America because an improperly installed brake shield could let water leak in and limit braking ability.
The recall covers 2011 to 2014 Jeep Grand Cherokees and Dodge Durangos.
The company says brake booster shields were added as part of a 2014 recall, but a check of warranty claims found that some weren't installed correctly. In those cases water can cause corrosion or get inside the booster and freeze. That can reduce braking ability, increasing the risk of a crash, according to documents filed with the U.S. National Highway Traffic Safety Administration.
Drivers could see a dashboard warning light before any problem occurs.
Fiat Chrysler says it knows of one potentially related crash but no injuries.
The 2014 recall was done to divert water away from the brake booster.
Dealers will inspect the shields and correct the installation if needed. The recall is expected to start Nov. 7.