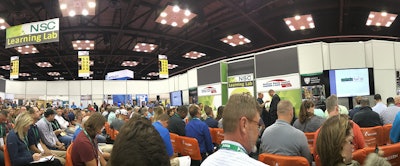 INDIANAPOLIS, IN — Coming to you live from Indianapolis, it's IMPO at NSC 2017!
OK, so I'm not really live. I'm actually typing this out from a hotel room after a full day at the 2017 National Safety Council Congress and Expo.
On Tuesday morning, the Occupational Health and Safety Administration (OSHA) released its preliminary list of the Top 10 most frequently cited workplace safety violations for fiscal year 2017.
Much like a late-night talk show host, Patrick Kapust, deputy director of OSHA's Directorate of Enforcement Programs, counted down the top 10 violations to a standing room only crowd. However, unlike late-night TV, safety is no laughing matter.
OSHA's Top 10 Workplace Violations of 2017
No. 10: Electrical – wiring methods (1,405 violations)
No. 9: Fall Protection – training requirements (1,523 violations)
No. 8: Machine Guarding (1,933 violations)
No. 7: Powered Industrial Trucks (2,162 violations)
No. 6: Ladders (2,241 violations)
No. 5: Lockout/Tagout (2,877 violations)
No. 4: Respiratory Protection (3,097 violations)
No. 3: Scaffolding (3,288 violations)
No. 2: Hazard Communication (4,176 violations)
No. 1: Fall Protection (6,072 violations)
One thing is for sure — as I have been walking the exhibit floor and browsing the various booths — manufacturers, engineers and R&D departments have been working hard to provide products, technology and innovations in an effort to bring workplace fatalities to zero.
Three of those products were voted "Best In Show" by expo attendees for the 3rd Annual New Product Showcase Awards. Winners were announced on the expo floor right before the OSHA announcement.
Winners were:
Win — MSA: Altair 4XR Mutligas Detector
Place — Werner Co: ProForm F3 Harness
Show — Conney Safety Products: Karbonhex Dusk Mechanic Gloves
I'll be back out on the show floor Wednesday and I can't wait to see what other innovations are there to see.
Here's a look at some of what I saw on the NSC expo floor Tuesday.