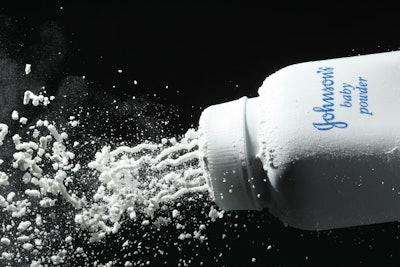 Johnson & Johnson has already been targeted by lawsuits from thousands of women who claim that the talc in the company's signature Baby Power product gave them ovarian cancer.
Now, unsealed documents in one of the cases reveal that the company could have been covering up another potentially hazardous substance: asbestos.
According to a report in Bloomberg, a document from May 1974 shows that an official from J&J urged workers at a talc mine in Vermont to use citric acid to depress chrysotile asbestos from the site.
The mine's director of R&D reportedly wrote at the time: "The use of these systems is strongly urged by this writer to provide protection against what are currently considered to be materials presenting a severe health hazard and are potentially present in all talc ores in use at this time."
Talc and asbestos are minerals that often naturally occur close to each other.
Until now, all of the claims against J&J that have gone to trial have focused on the presence of talc in its baby powder. Most research into the connection between talc and cancer have shown that the link is weak or non-existent. But juries have often drawn different conclusions. So far, five juries have ruled against J&J. The company has also won one case while a few others have been tossed out. About 5,000 suits are still pending around the country.
The lawyers in this case allege that there could be a link between a presences of asbestos in the powder and the plaintiff's cancer, and that J&J tried to cover up the possibility that its product was contaminated.
J&J claims that tests dating back to 1972 always showed that its talc was free from asbestos.
"We are confident that our talc products are, and always have been, free of asbestos, based on decades of monitoring, testing and regulation," a company spokesperson said.
Yet, in a 1973 report from the Vermont mine, an official from the company suggested that the company use corn starch instead of talc due to concerns that asbestos could be tainting its products.
The company also reportedly tried to stop the circulation of a booklet from an Italian mine in 1974 that claimed there were trace amounts of asbestos in talc J&J bought from the site.
A doctor who testified for the plaintiff in the case said that even trace amounts of asbestos in talc powders could increase the likelihood of cancer.