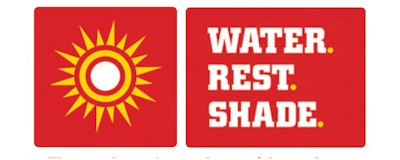 The National Institute for Occupational Safety and Health (NIOSH) and the Occupational Safety and Health Administration (OSHA) have teamed up to help keep workers safe this summer.
The duo recently released the Heat Safety Tool which is an update to OSHA's original app that was launched in 2011. The original app will stop functioning in September.
The new app is available for both Android and iPhone and the organizations hope tool will help keep workers safe while working in hot weather conditions. According to OSHA, more than 65,000 people seek medical treatment for extreme heat exposure every year.
The app is free and available to the public. The tool can be helpful because it displays the current temperature, heat index and the risk level for the user's location. It also provides forecasts, by the hour, for the whole day.
In addition to displaying the heat index and forceasts, the app also provides information on heat-related illness symptoms, first aid and tips for precautions workers can take for each risk level.
What do you think of the updated Heat Safety Tool? Do you think it will be helpful in protecting workers from heat-related dangers?