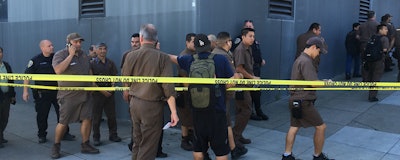 Four people were killed in a shooting at a San Francisco UPS package sorting and delivery facility Wednesday morning.
At a press conference, San Francisco Deputy Police Chief Mikail Ali said there were six shooting victims, including the suspect. Three victims were killed. The suspect, a 38-year-old male, was killed by a self-inflicted gunshot. No police fired a shot during the confrontation with the suspect.
CNN reports that five additional people were injured, likely during evacuation of the building.
Ali said when police arrived, the shooter was armed with an assault pistol and was dressed in a UPS uniform. Police have not yet determined if the suspect was a UPS employee, however some sources are reporting that the gunman worked for the delivery company.
The incident occurred around 8:55 a.m. (PDT) at the UPS San Francisco Customer Center. Witnesses said they heard rapid gunshots and then saw "a mob of UPS drivers" running down the street shouting there was a shooter.
The area was under a shelter-in-place warning while police investigated the incident. 
In a statement, UPS said they couldn't provide information on the identity of the people involved, pending the police investigation.
"We understand that there are potentially multiple deaths, although some individuals were transported to the hospital and we are unsure of their status at this time," the statement read. "The company is saddened and deeply concerned about affected employees, family members and the community we share. Our thoughts and prayers are with all those touched by this incident."