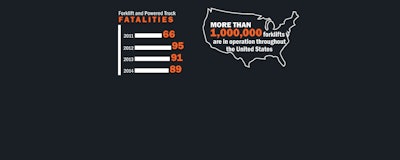 One million forklifts are in operation at U.S. jobsites, and stats point to one in 10 of these forklifts being involved in an accident before the year ends. Forklift accidents cause 20,000 injuries every year, some of them fatal, costing companies more than $135 million every year. Twenty-two percent of fatal accidents are due to forklifts being overturned. Finally, powered industrial truck hazards are routinely listed among OSHA's top 10 violations, netting the sixth spot for 2016.
Moving Toward Safety With National Forklift Safety Day
The above statistics underscore the need for National Forklift Safety Day, to be recognized Tuesday, June 13. Now in its fourth year, the event serves as a focal point for manufacturers to highlight the safe use of forklifts and the importance of operator training as it encourages safer behavior in warehouses, distribution centers, and manufacturing plants. According to the Industrial Truck Association (ITA), the organization that founded Forklift Safety Day, the day provides an opportunity for the industry to educate customers, the public, and government officials about safe forklift operation.
The message the ITA wants to reinforce the most is that forklift operator training is a critical component to ensuring safety in the workplace.
A Forklift Safety Infographic To Enhance Workplace Safety
Industrial safety company Graphic Products has designed an infographic called 10 Rules for Forklift Safety that examines forklift operation rules and regulations, lays out important statistics, and provides tips for eliminating forklift hazards and enhancing safety.