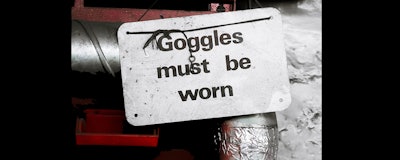 Risk assessments are there to prevent things from going wrong. In theory, if there is a risk assessment in place, accidents shouldn't happen but there's usually still a small degree of potential danger. Every company, big or small, machinery led or office based, should carry out a risk assessment of the environment they're working in.
Someone who is experienced and competent with risk assessments must carry out a risk assessment. This will come from regular training, prior experience and a knowledge and awareness of the depth of topics that a risk assessment covers.
There are 8 steps to carrying out a risk assessment:
Identify the hazards
Identify those at risk
Identify existing control measures
Evaluate the risk
Decide/implement control measures
Record assessment
Monitor and review
Inform
Identifying Hazards
To identify hazards in the workplace you need to have excellent knowledge of what a hazard actually is and where to look out for it. In other words, a hazard is anything that could potentially injure employees or harm someone's health.
To identify hazards, check leaflets and information booklets that come with machinery and materials. It's also a good tip to look over accident records to see where previous mishaps have happened. Finally, don't forget to look over long-term hazards to health such as repetitive strain injury or high exposure to loud noises.
Identifying Those At Risk
Remember that different employees require particular requirements. You'll have to take allergies into account, age, new workers, pregnancy, disabilities, contractors, home workers, migrant workers and part-time employees when you are identifying risk. If your work space is in a public area, you will also have to identify the risks to the public.
Evaluating The Main Risks
Although some risks cannot be helped, and we can't see into the future, you should be able to evaluate the main risks in your working environment. Once you have identified hazards, you will need to put control measures in place to prevent the risks. You need to consider whether you can get rid of the risk entirely, here's an example:
You have a piece of heavy equipment that can be accessed by a number of staff and is moved around the factory/warehouse regularly, however you've noticed that its castor wheels are becoming stuck making the machine harder to move. This poses a risk because not only could someone injure themselves attempting to move it, the machines stability can be questioned if the wheels are jamming and it could tip if the force behind it is strong enough. Therefore, a simple solution would be to change the castors to ensure the machinery is easier to move, reducing the risk and also making your workforce's job a little easier.
When you evaluate risks, you will need to take into account money, time and trouble and evaluate whether the risk can be removed entirely or whether you can find an easy to implement option.
Record And Review Your Research
It's important to formally document risk assessments so that you can use it to communicate about risk and review the changes you've made sometime in the future. Keeping a record also shows that the proper procedure was carried out for risk assessment should a freak accident occur.
It's really important that frequent risk assessments are carried out as work environments, employees and conditions change so often. The better the risk assessment, the lower the risk of an accident and the safer your company will be.
Patrick Vernon is a freelance writer, specialising in business and finance related content. Vernon has gained experience writing for a variety of magazines and websites, researching and offering his advice on business tips to the public.