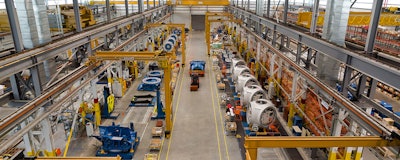 The regulatory landscape for enclosures can get overwhelming. NEMA, UL, CSA and IEC/IP ratings all apply to enclosures; they overlap each other and yet they also stand on their own. For instance, some Type Rating Systems overlap enough to be directly comparable to IP ratings, while others do not. They all are understandable once engineers know some basic information about them, however. Understanding how regulations apply to your industry can help engineers in specifying what rating system to use when selecting enclosures and designing their setups.
NEMA
The National Electrical Manufacturers Association (NEMA) is a standard organization which publishes a number of technical standards but does not test or certify products itself. NEMA publishes the NEMA 250 standard which covers electrical enclosures rated not more than 1000V and intended to be installed and used in both indoor use (Type 1, 2, 5, 12, 12K ,13) and indoor and outdoor use (Type 3, 3R, 3S, 4, 4X, 6, 6P). The standard covers the requirements to provide protection to enclosed equipment against specific environmental conditions and outlines the test criteria for classifying enclosures into NEMA Type ratings. NEMA Enclosure Type ratings cover the degree of protection against the ingress of dirt and water, mechanical impact and minimum thickness requirements, sealing requirements, oil resistance, mounting, corrosion resistance and more. The NEMA Type rating may be self-certified.
UL
Underwriters Laboratories (UL) is both a writer of standards and a NRTL (Nationally Recognized Testing Laboratory). Based on NEMA 250 standard, UL develops two standards — UL 50: Standard for Enclosure for Electrical Equipment and UL 50E: Enclosures for Electrical Equipment, Environmental Consideration, which outlines testing methods for classifying enclosures into UL type ratings. The UL Type ratings match the NEMA Type ratings shown above, but the testing requirement in UL50/50E meets or exceeds the NEMA 250 standard and is certified by a NRTL (generally UL, but other NRTLs may certify to a UL standard). UL sends site inspectors to make sure the manufacturer follows the prescribed manufacturing process. Self-certification is not allowed for UL Type ratings.
CSA
The Canadian Standards Association (CSA), similar to UL, is both a writer of standards and a NRTL. Based on NEMA 250, CSA develops C22.2 No. 94 which is now harmonized with UL50 and includes testing requirements that meet or exceeds the NEMA 250 standard. Like UL Type ratings, CSA Type ratings are matching the NEMA Type ratings and do not allow self-certification. CSA also sends site inspectors making sure the manufacturer follows the prescribed manufacturing process.
IEC/IP
The International Electrotechnical Commission (IEC) is the world's largest standard organization which publishes a number of technical standards but does not test or certify products itself. The IEC 60529 standard covers the protection of electrical operating equipment against ingress of solid bodies and ingress of water, classifying them under two-digit codes called IP ratings. These ratings are international and are common in Europe.
An IP rating consists of the letters IP and then a two-digit number. The first digit represents an enclosure's resistance to solid object ingress, and the second digit represents an enclosure's resistance to liquid ingress. IP ratings rank solid object ingress protection from 0 to 6, and liquid ingress protection from 0 to 9, with 0 representing the lowest level of protection. IP ratings do not specify protection against corrosion, and do not provide details on material thickness, oil resistance, sealing, mounting or mechanical strength. IP ratings are not directly comparable to NEMA/UL/CSA ratings for this reason.
Which Rating System Should You Use?
When it comes to specifying an enclosure rating, often engineers rely on familiarity and convenience. Many engineers are familiar with NEMA ratings, so they use those as a quick and easy way to specify the enclosures required in an individual setup.
However, there are situations in which it makes sense to choose one rating system over another. Using UL or CSA ratings provides the assurance that inspections have occurred to verify that the enclosures are built to those standards.
The geographic location of an industrial user may also play a role. For North American use, NEMA/UL/CSA ratings apply across Canada and the U.S., and they may be potentially translated globally into IP ratings. But, if you are trying to use an IP rated enclosure and translate into a NEMA Type rating that is not going to be possible. Keep this in mind when specifying which protection system on which to base enclosure selections.
Advance Knowledge Is Power
Before selecting enclosures and their design configurations, a little advance research into regulations, what they cover and where they apply (both in your facility and in the world) can help your operation run much smoother and ensure proper protection — for you and your customers.
Slavco Anastasov is Industrial Product Manager for Rittal Corporation where he analyzes market needs and trends as they relate to industrial control panels and manages UL certification projects. He holds a BS in Electrical Engineering, Power Systems, from Ss. Cyril and Methodius University, Skopje Macedonia.