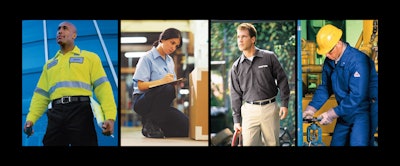 In 2015 alone, almost 3 million non-fatal injuries and nearly 5,000 fatal injuries rocked the nation's workplaces. Given the dangers, safety must remain the number-one priority for businesses in nearly every sector of the economy, but particularly in industrial settings, where hazards are common and accidents are always a possibility.
In the rush to improve worker safety, the simple solutions often get overlooked. One of the most basic, yet most essential protective measures includes the wearing of uniforms and Personal Protective Equipment (PPE). From food service plants to oil rigs, a wide range of work sites rely on industrial uniforms to keep their employees safe throughout the work day. Here are three ways the right apparel can help minimize risk.
Protect Against Hazards
Industrial uniforms are designed to protect employees from workplace hazards, whether those are combustible materials or chemical particulates. A diverse set of industries relies on Personal Protective Equipment (PPE) for hazard mitigation. Some of the most prominent include:
Coal Mines: One of the most dangerous occupations in the world, coal mining, has its fair share of environmental hazards: dust, chemicals, falling objects, and low visibility. From hard hats and boots to protective coveralls and reflective clothing, personal protective gear is non-negotiable in the nation's coal mines.
Oil Rigs: Offshore drillers also face some of the toughest conditions. Mix highly combustible materials with heavy equipment and cramped quarters — you have a recipe for disaster. Protective gear goes a long way toward curtailing the daily risks facing oil workers.
Renovation Sites: From general contractors and handymen to plumbers and electricians, those who take care of our homes and structures require protection against dust, debris, rust, grease, sewage, and much more.
Manufacturing Plants: Many manufacturing businesses keep their assemblers, production operators, and forklift operators safe by requiring special safety equipment on the floor. Hard hats, steel-toed boots, and safety glasses are essential for employees who work with heavy machinery on a daily basis.
Promote Cleanliness
Grease, bacteria, and food particles aren't just unsightly — they can also be hazardous. Sanitized garments and industrial cleaning services are crucial when it comes to maintaining a clean, healthy workplace.
Medical Manufacturing Plants: Assemblers must work in a clean, temperature-controlled environment in order to create sterile products that will be used in medical procedures.
Clean Room: Clean rooms are also controlled environments that require specially treated garments. Only professionally cleaned uniforms can ensure the integrity of the facility.
Food Processing Plants: HACCP workwear and laundering services are an essential part of the food processing industry, which closely regulates anything that might lead to cross-contamination or adulteration.
Improve Visibility
It's always helpful when employees can quickly identify who is a coworker and who is not. In some industries, it's a matter of mere convenience — of raising brand awareness and improving customer experience. In others, it's crucial.
Construction Sites: Moving vehicles, heavy equipment, and major traffic are only some of the reasons construction workers need to stay observable at all times. High-visibility shirts and safety vests make that possible.
Airports and Railway Stations: Visibility is essential for those who work in transportation hubs. Airport ground crew workers, in particular, have to contend not only with large aircraft but, also, with baggage transports and other moving vehicles.
Uniforms raise esprit de corps. They boost a company's image and raise brand awareness, while providing employees with a clean and comfortable work experience. The right uniforms can enhance the professionalism of any industrial site, making employee identification quick and easy, for coworkers, managers, and customers alike. Most importantly, personal protective gear is often the first line of defense against accident or injury, helping to keep industrial workers safe from day to day. Whether your business is medical manufacturing or transportation security, selecting the proper uniform for the job is one of the most basic ways you can keep employees, customers, and visitors safe.
Jerry Martin is the Vice President of Sales & Marketing at Prudential Overall Supply, an industry leader in reusable image work and related textiles. Along with dozens of other uniform types, Prudential Overall Supply offers clients safe, durable, and comfortable industrial workwear. These uniforms are made using cutting-edge Touchtex technology and are specially designed for construction sites, steel mills, factories, and other similar work environments. All uniforms are available for rent, lease, or purchase.