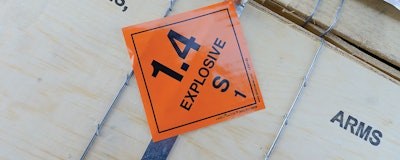 There has always been some degree of risk involved in transporting dangerous goods (DG)/hazmat, with the responsibility for compliance typically assigned solely to the compliance or shipping department. Today, with more than 1.4 million DG shipments being made daily in the U.S. and a greater number of goods now classified as hazardous, that risk has multiplied exponentially—and so have rules and regulations.
The challenge of ensuring compliance with these complex and changing regulations is made even more difficult due to responsibility shifts within many organizations, with the role of hazmat compliance now often involving a number of divisions, including IT, supply chain, compliance warehouse, shipping, EHS (environmental, health and safety) and more.
The path to safety and compliance requires a commitment to developing the necessary infrastructure, establishing the right processes and having the right personnel to carry it out.
The result is not just enhancing your company's brand by being a good corporate citizen. It can give your business a competitive edge and boost your bottom line by helping to reduce costs, mitigate risk and virtually eliminate penalties and fines due to violations and rejected shipments.
Internal Challenges Associated With DG/Hazmat Compliance
In addition to facing these external challenges, many companies have internal issues that affect their willingness or ability to adopt a cohesive, enterprise-wide strategy around DG compliance. For example:
Siloed corporate structure. Some organizations have multiple divisions or facilities in which compliance responsibilities are separated by line of business, functional branch or geographic location.
Lack of clarity on "ownership" of DG compliance. In some organizations, compliance responsibility belongs solely to the EHS department. In others, safety and environmental compliance may play only a minor role in the shipping and logistics function. Additionally, lacking C-level awareness or involvement, or a cohesive DG strategy (and budget) may simply fall through the cracks.
There isn't room in the budget for new technology or resources. Lack of funds may be the most frequent obstacle encountered in deciding whether or not to pursue a corporate-wide safety initiative.
Use of manual processes and resistance to change. Established companies too often have a set way of doing things and a strong resistance to change. The fact is, in today's stringent regulatory environment, a single serious safety offense or accident can spell disaster for a company's reputation and financial future.
Use of printed documents or homegrown and/or disparate digital systems. Numerous businesses have begun to take steps toward integrating DG compliance best practices into their corporate culture. Unfortunately, those solely relying on printed brochures and manuals to track regulations may not realize that the print editions may be out-of-date and the rules no longer applicable.
The Right Infrastructure And Resources Are Key
Companies spend millions of dollars in product development and make large investments in sales and marketing, so it's important to leverage these investments by making sure transportation strategies are as efficient, effective, safe and secure as possible.
Some newer resources that can help ensure accurate DG record-keeping and compliance are easy-to-use databases and applications designed to keep key personnel informed about current regulations. Whether web-based or accessible via USB, these basic apps can inform your internal team and external partners about applicable regulations and what they mean.
For some organizations, more advanced systemic DG/hazmat software solutions may be even more helpful. These highly functional systems can automate and streamline the entire process, including accessing regulations, completing documentation and validating each and every DG shipment.
The strict regulations governing DG/hazmat shipping are not going away and, in fact, may become even more stringent. But how your firm chooses to manage the process can make a tremendous difference.
The important thing is to acknowledge that DG compliance is a worthwhile goal, not just a "nice to have," and to drive that decision forward with an investment of time, people, and budget.
Robert Finn is vice president of marketing at Labelmaster, which provides dangerous goods and product regulatory support to customers worldwide through the firm's extensive experience and knowledge of hazardous materials regulations.