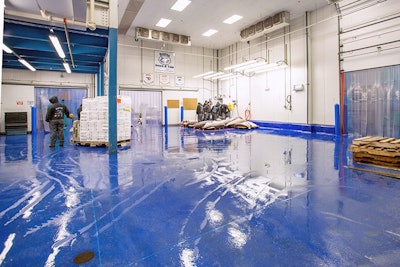 Editor's note: This article originally appeared in the January/February 2016 issue of Food Manufacturing.
The Hazard Analysis and Critical Control Point (HACCP) food safety management system has been designed to provide food and beverage facility designers, owners and plant managers with a list of criteria and standards that both their building materials and operational activities must meet in order to safeguard their sites against the risk of food contamination crises.
HACCP is centered on the prevention of food safety risks rather than relying on end testing to trace a contamination problem back to source. The cost of failing to protect against such incidents is high, as it cannot only lead to financial and reputational damage to the producer, but also outbreaks of foodborne illness, and in the worst-case scenario, public fatalities. HACCP guidelines cover the entire food manufacturing process, from harvesting to consumption, and are targeted on preventing problems from occurring in the first place.
Getting a facility's floor area right is a critical part of the HACCP process. Otherwise, it can present a variety of challenging health and safety concerns, especially for large-scale industrial facilities where slip risks, contamination threats and potentially dangerous working practices all need to be accounted for.
Gravity will cause the majority of contaminants to end up on the floor, and unwanted substances can easily be walked in from elsewhere. If the floor is difficult to clean and starts to harbor dangerous pathogens, the site could be putting its workers and clients at risk.
The HACCP guidelines emphasize the importance of seamless and impervious flooring, as seams, joints, grout lines and gaps can become breeding sites for bacteria, fungi, mold and mildew. Making sure that the floor provides a seamless surface will help the cleaning regime to quickly wash any unwanted substances out of the area. Should an inadequate floor be installed, it could become cracked and porous. Microbes, dust and mold can get stuck in these hard-to-clean gaps, and a previously perfect surface will have become unsightly, unsanitary and unsafe.
Traditional food and beverage flooring materials such as thermoplastic coverings, terrazzo, epoxy resins and cementitious urethane screeds all meet this HACCP criteria thanks to the seamless, non-absorbent and easy-to-clean finish that they create. It is important to ensure that the floor is able to maintain these properties for an extended period of time, as otherwise a HACCP-compliant finish could be compromised and degraded by the site's workload and no longer able to call itself either seamless or impervious.
General conditions within the food and beverage industry can easily affect an insufficiently robust floor finish. The floor could be subjected to fats, hot oils, blood, sugar solutions and natural food acids. Many of these substances can cause substantial damage to an uncoated concrete floor due to their corrosive nature. Additionally, these substances can infiltrate the concrete material resulting in microbial growth and the spread of bacteria, which will in turn degrade not only the production environment, but may contaminate the products themselves.
In addition, rigorous cleaning and maintenance processes including steam cleaning, pressure washing, hot water wash downs and the use of aggressive cleaning agents can place a significant amount of stress on the floor, eating away at the surface, exposing the concrete's weaknesses and leading to bacterial penetration as it becomes more and more porous — meaning that the cleaning process is inadvertently creating a hygiene risk.
For all of these reasons an exposed concrete slab needs to be covered with a high performance flooring system in areas where consumable food and beverage products are being produced, processed, packaged or stored to ensure compliance with the HACCP guidelines.
Seamless resin-based surfaces are increasingly being specified in these environments on account of the material's hygienic profile and hardwearing performance characteristics. Thick cementitious urethane systems are especially applicable, as they can withstand the above factors as well as heavy impacts, foot traffic and thermal shock for an extended period of time.
As a general rule, the thicker the system the longer its service life and the better able it will be to withstand damage from heavy impacts, chemicals and extreme temperatures. This highlights the value of having a detailed knowledge of the site's operational activity to avoid specifying a thin floor finish that will crack when faced with the reality of the building's daily use.
Anticipated traffic loadings need to be particularly accounted for, as just a hand pallet truck when fully loaded could weigh in excess of 2,000 lbs. When repeatedly moved, this will put significant pressure through the small wheels and into the floor, especially over areas where it is being pulled in a tight turning circle.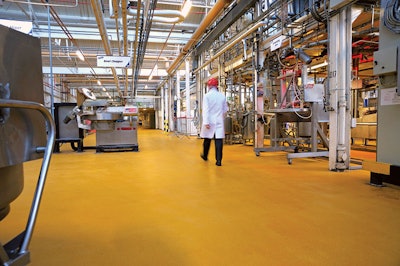 HACCP International, which is headquartered in Australia, is made up of 60 staff worldwide with a U.S. base in Orlando, Florida. Certification by HACCP International follows assessment of a product using a risk assessment based protocol very much based on that used by the food industry when following Codex Alimentarius. This risk assessment is performed against a generic standard, which outlines nine key assessment criteria. Each criterion examines potential food safety hazards and assesses how the manufacturer of the equipment or material has controlled these potential hazards so that they do not adversely affect the HACCP-based food safety management system operated by the food business.
To meet the HACCP International standard, floors need to allow for adequate drainage and cleaning, facilitating the fast and effective removal of excess liquid and slippery contaminants from the area.
To meet this benchmark, easily cleanable stainless steel drainage can be incorporated into the floor plan. When designing the drainage system the floor needs to be sloped — this avoids the water pooling and means that waste liquid flows in the right direction. The seamless nature of cementitious urethane flooring is also a drainage advantage, as the unwanted water, liquids, oils and greases won't be impeded from moving towards the drainage channel.
A joint, installed on either side of a drainage channel, will counteract the fact that the stainless steel drain will have a different coefficient of movement to the surrounding flooring system. Without this joint, the two materials will struggle to expand and contract next to each other when faced with temperature fluctuations. A crack here could lead to many problems — from contamination build-up to water ingress — that could break down the concrete and spoil the seamless finish, which consequently means that it won't adhere to the HACCP standard.
HACCP guidelines have become largely ubiquitous in the food and beverage industry, the juice, seafood, meat and poultry sections in particular all have HACCP programs laid down by the Food and Drug Administration and the United States Department of Agriculture. The majority of sectors within the industry have recognized that it not only means that their facility will meet the demands of regulatory authorities but it will also provide reassurance to the end-user that the product they are purchasing has been safely procured, produced and processed.