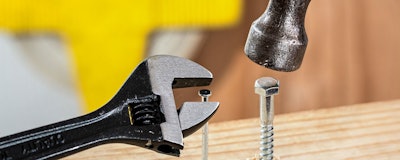 Nylon Plastic Wing Nuts, with Tapped Through Insert
JW Winco, Inc. has expanded its line of GB-FP Wing Nuts Nylon Plastic, with Tapped Through Insert. The tapped through wing nuts allow full clamping, unrestricting the threaded stud the wing nut is being used on. The wing body, temperature resistant up to 230° F (110° C), is matte black, glass filled nylon plastic while the tapped insert is brass, molded-in.
New Hammerless Tools
Mayhew Steel Products, Inc. introduced ten new Hammerless Tools to their product line. These spring-powered tools serve as a safe alternative to mark, cut, punch, start and/or set without the need for a hammer. The tools are intended for use on wood or metal surfaces delivering up to 3,500 lbs. of striking force. Users place the tool directly on the work surface, pull back the spring, and simply release—gaining extreme precision and accuracy and avoiding mis-hits and glancing blows.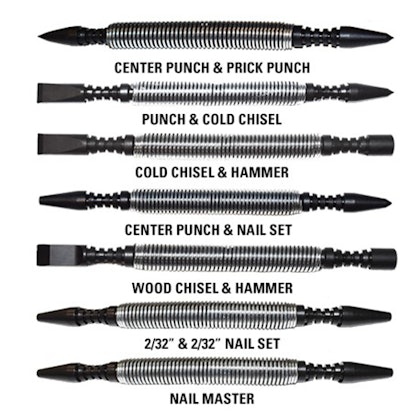 Highly Accurate Electric Hand Grinders
The unique shape of Palmgren's electric hand grinders provide exceptional control with less operator fatigue. Each of the three available models has an efficient motor design that conserves power and runs cooler. Highly accurate, the electric hand grinders are ideal for rotary filing, deburring, cleaning, and polishing applications.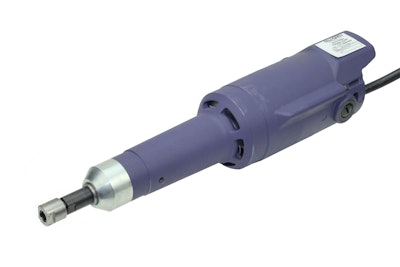 Magnetically Coupled Rodless Cylinders
IMI Norgren MC Series magnetically coupled rodless cylinders deliver the extra benefits of greater design flexibility and easier application-specific customization. The cylinder's stainless steel tube and machined components are independent of each other, with the carriage and piston synced by powerful magnets. This design allows more varied profiles and specialized profiles to meet requirements for applications like cutting, opening doors, transferring between conveyors, or feeding materials into machinery.