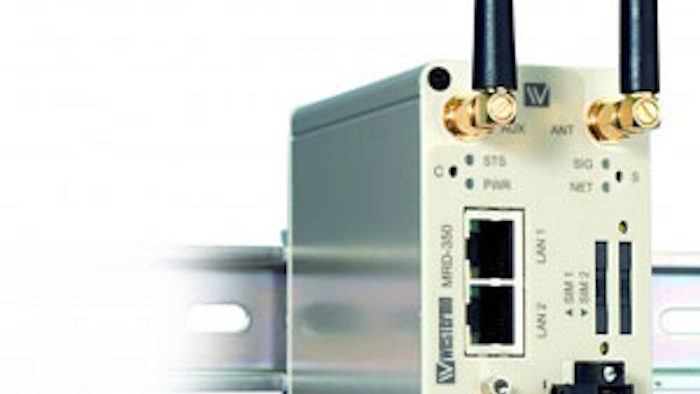 The Westermo MRD-350 is a robust industrial mobile broadband router designed for remote access across a cellular network. According to the company, the router:
Uses the Internet to cost-effectively interconnect systems, allowing HMIs, PLCs and other devices to communicate with each other.

Has an uplink capacity of up to 5.7 Mbit/s and downlink of 14.4 Mbit/s, making it suitable for high data rate transmissions.

Is suitable for mobile or static applications, including video surveillance, SCADA/DNP3 telemetry systems and remote access to machines and devices.

Has a special low-power mode to only be fully powered when needed, which is perfect for solar-powered applications.

Supports a wide variety of wireless standards including GSM, GPRS, 3G UMTS, HSDPA and HSUPA.

Features dual SIM card support, which ensures that site connectivity is not dependent on a single carrier.

Will automatically use the most efficient network available according to the geographical area

when applied to on board applications (train, truck, buses, off road vehicles, etc.).

Features a rugged enclosure, operating voltage range from 10 VDC to 60 VDC and compact design with all interfaces and LEDs positioned at the front.

Features isolation between the PSU and the Ethernet and serial ports, so protection is provided against issues caused by ground loops.

Offers protection from malicious eavesdroppers via encrypted communication tunnels — Virtual Private Networks (VPN).

Features a simple yet powerful packet inspection firewall.

Includes a number of tools that will ensure connectivity with PLCs and other RS-232-based devices.

Features a built-in two port 10/100 Ethernet switch and RS-232 port, which allow a broad range of devices, machines and systems to seamlessly connect over any distance.