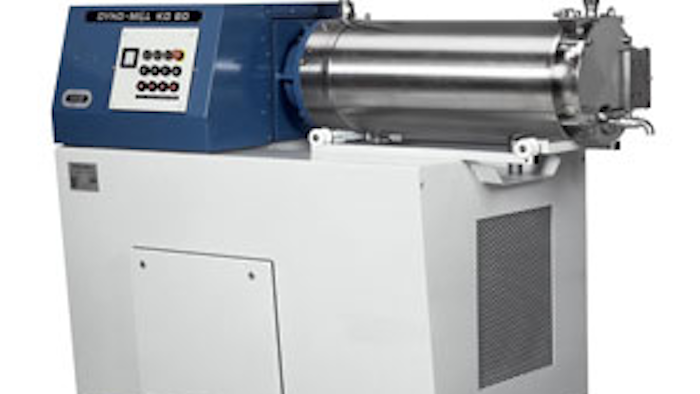 An innovative cell rupture process enabled by patented DYNO-MILL® grinding technology available from Glen Mills, Inc. breaks apart yeast bacteria, fungi, algae and other microorganisms in order to permit the easy and efficient extraction of high energy-containing protein, enzymes and other lipid-bearing intracellular components.  According to the company:
The relatively easy cultivation of algae can be located at a laboratory, central processing facility, or directly at a point of use location.

  

Algae slurry is simply pumped into the grinding chamber of the shear DYNO-MILL horizontal grinding system that is fitted with a shaft assembly and loaded with media beads.

 

During the low-temperature grinding operation, media beads located within the grinding chamber rotate with differing levels of kinetic force to shear, impact and rupture the cell walls.

 

The efficient operation routinely achieves cell rupture rates approaching 100 percent.

 

A dynamic separator or screen then filters out and discharges and collects the resulting suspension of broken cells, while retaining the beads within the mill.

The quiet, completely enclosed DYNO-MILL system features a wide range of cell rupture parameter controls that are used to optimize cell size output during the single-pass process.

 

A variety of DYNO-MILL models, sizes and configurations are available to accommodate laboratory research, field processing, and commercial

 

production applications.

Sample tests and contract lab time can be arranged and rental units are available for user laboratory testing and evaluation by contacting Glen Mills Inc.

Intermediate and larger-size production units are available to address pilot-plant scale-up and production processing output requirements.

staff@glenmills.com  

www.glenmills.com