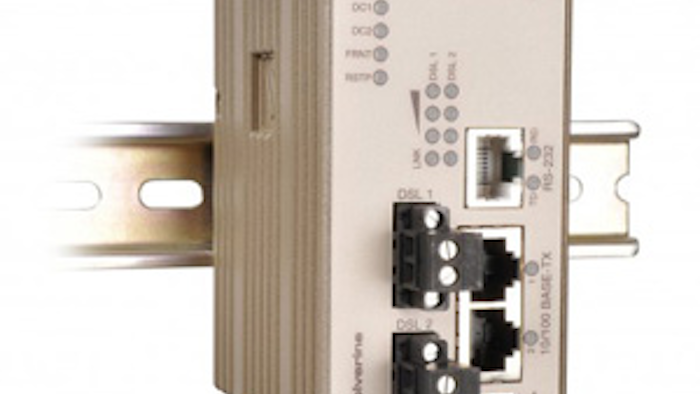 Westermo's DDW-142 is the latest addition to the Wolverine range, which uses SHDSL technology to establish a high-speed connection between Ethernet networks using any existing twisted pair cables. According to the company, the DDW-142 is:
A fully managed device with Layer 2 switch functionality that enables effective Ethernet networks to be created over distances of up to 15 km.

Able to provide data rates of up to 30.4 Mbits/s, which makes the device suitable for connecting complex networks that may include a large number of devices requiring high bandwidth.

Provided with an integral 2-port 100 Mbit switch that allows two Ethernet devices to be attached and a RS-232 port enables legacy devices to be easily incorporated into the IP network.

Extremely easy to set up, requiring no configuration for simple point-to-point communications.

Provided with a Web interface for larger networks.

Supplied with a unique cable distance calculator.

Designed for use in tough environments and mission critical railway, road or utility applications where device failure could result in significant costs.

Robust, compact and able to operate in extreme temperatures (-40 to +70°C) where EMC and vibration levels are high.

info@westermo.com

www.westermo.com