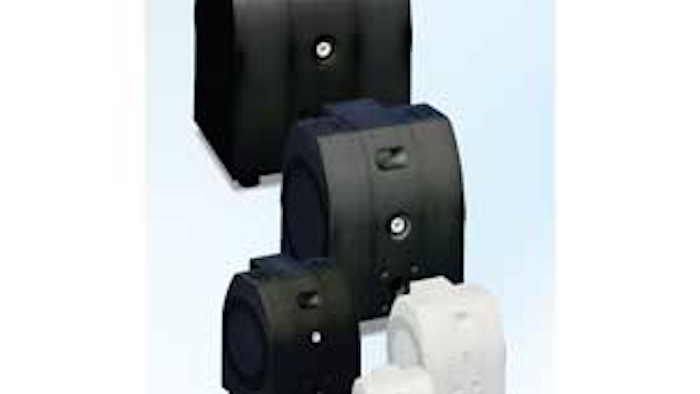 Almatec® recently launched its E Series plastic air-operated double-diaphragm pumps to offer the full containment that is critical in safely transferring dangerous acids across the chemical supply chain, including nitric acid, sulfuric acid, hydrogen fluoride, hydrogen chloride and phosphoric acid. Other features, per the company, include:
A stainless steel containment ring that creates consistent high-torque compression all the way around the ring, pulling the components tightly together and eliminating a potential leak path.
CNC-machined solid-block PTFE or PE construction, so the pump can be used in the harshest environments and handle the most dangerous acids.
The Perswing P® air control system to optimize efficiency when comparing flow rate and air consumption needed, which translates into lower energy costs.
A pulsation dampener that ensures a consistent flow rate with minimum pulsation and vibration.
A barrier chamber system that prevents media from spilling into the atmosphere.
Maximum flows to 800 LPM (210 GPM); suction lift to 5 m (16.4 feet) dry, 9.5 m (31.2 feet) wet; and maximum solids size to 15 mm (9/16 inches).
Tighter tolerances, along with reduced vibration, to lessen the risk of leaks, as well as provide greater stability and durability.
A metal core, which eliminates the need for diaphragm discs that frequently give rise to leaks and attract contaminants.
Availability of ATEX-certified PE and PTFE conductive models.
7 sizes from 6 to 76 mm (1/4 to 3 inches) with maximum temperatures to 120°C (248°F).
No mechanical seals or packing to eliminate a critical leak point.