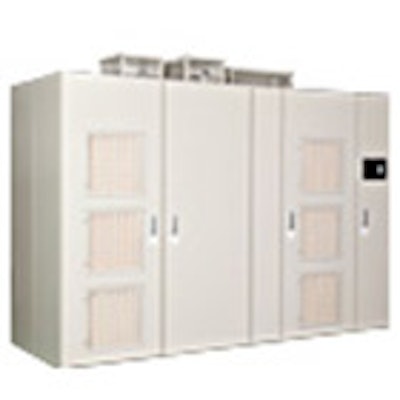 The Drives & Motion Division of Yaskawa America announces the release of the MV1000 medium voltage AC drive family. Designed for energy savings and improved process control, MV1000 drives combine
compact modular design, high efficiency and low harmonics. The compact modular design includes a transformer panel, power cell panel, control section, and cooling fans resulting in a MTBF (Mean Time Between Failure) greater than 200,000 hours. The drive uses two 5 voltage step bridges per phase to generate a 17-level line-to-line voltage output delivered to the motor. The near sinusoidal waveform results in low THD voltage, low torque ripple, low speed torque and motor friendly features without the need for output filters. The drives are available in 2.4 kV and 4.16 kV models in 4 different frame sizes. 2.4kV models are available with outputs ranging from 200 HP to 2750 HP, while 4.16kV models are available with outputs ranging from 300 HP to 5000 HP.
Yaskawa America, Inc.