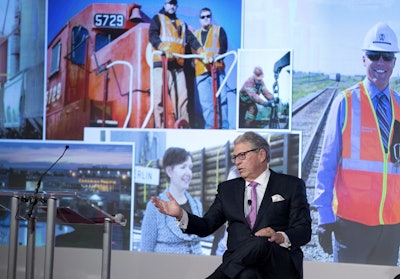 Canadian Pacific's CEO said Wednesday he expects to get a formal response soon from Norfolk Southern about whether the Virginia-based railroad wants to pursue a proposed merger.
Hunter Harrison told an investor conference that he believes there's a compelling case for combining the two railroads.
Norfolk Southern has offered only a lukewarm statement in response to Canadian Pacific's initial offer last month of $46.72 cash and 0.348 shares in the combined company.
Harrison reiterated that the case for a combination includes the potential for $1.8 billion in annual cost savings. He was speaking at a Credit Suisse conference.
Norfolk Southern spokeswoman Susan Terpay declined to comment Wednesday.
Harrison said he hopes Norfolk Southern executives will discuss the proposed deal, but he thinks shareholders should get a chance to decide on the deal even if the railroad's board doesn't like it.
"I think if they shut the door in our face and say, we're not going to talk or what — that we think the shareholders ought to hear the case," Harrison said.
Any deal would face a tough review from federal regulators who haven't approved any major railroad mergers in more than 15 years. One of the only major deals in recent years is when Warren Buffett's Berkshire Hathaway conglomerate bought BNSF railroad in 2010.
Harrison said most shareholders and railroad shippers he's talked to support the merger idea. The criticism has generally come from other freight railroads. But Harrison said he doesn't expect regulators to give much weight to those complaints.
"This is about competition, and that's what this is all about," he said. "And I just can't imagine Mr. Buffett going to Washington and saying, 'Help me. These Canadians coming in ... and doing all these ugly things to us.'"