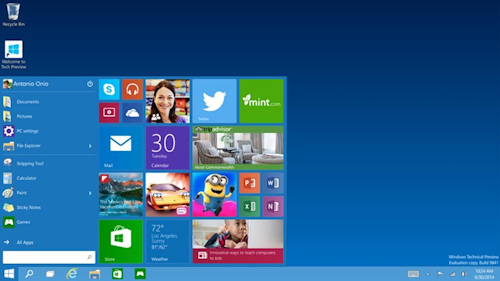 Only July 29, 2015, Microsoft plans to launch Windows 10 by giving it away as a free upgrade. So what does that mean?
In hopes of drawing as many users as possible to Windows 10 (and erase the bad memories of Windows 8), Microsoft is offering the new OS as a free upgrade for the first year. The company plans to allow users running Windows 7 or 8.1 a free upgrade to Windows 10 at launch. But the edition you receive will depend on what you're currently running now.
Like before, Windows 10 will come in Home and Professional editions, as well as an Enterprise version for big businesses. According to Microsoft's Windows 10 Q&A page, the edition you receive will be comparable to the edition you are already running:
Windows 7
If you currently run Windows 7 Starter, Windows 7 Home Basic or Windows 7 Home Premium, you will be upgraded to Windows 10 Home.
If you are running Windows 7 Professional or Windows 7 Ultimate, you will be upgraded to Windows 10 Pro.
Windows 8.1
If you are running Windows 8.1 (the standard edition), you will receive Windows 10 Home.
Those running Windows 8.1 Pro or Windows 8.1 Pro for Students will receive Windows 10 Pro.
For Windows mobile phone users running Windows Phone 8.1, you'll get Windows 10 Mobile as your free upgrade.
Windows 7 users must be running Service Pack 1 in order to receive the free upgrade. You can download it directly from Microsoft's Download Center. Windows 8.0 users will have to upgrade to Windows 8.1 to get 10 for free. Some Windows editions are not eligible for the free Windows 10 upgrade including Windows RT/RT 8.1, Windows 7 Enterprise and Windows 8/8.1 Enterprise.
So what is the major difference between Windows 10 Home and Windows 10 Pro? While Windows 10 Home is "consumer-focused," both editions are aimed at PCs, tablets and 2-in-1 devices. The Pro version adds extra features for small businesses — like the ability to manage users' devices and a remote desktop tool.
To find out more about the different versions of Windows 10 that will be available, check out Microsoft's blog post here.