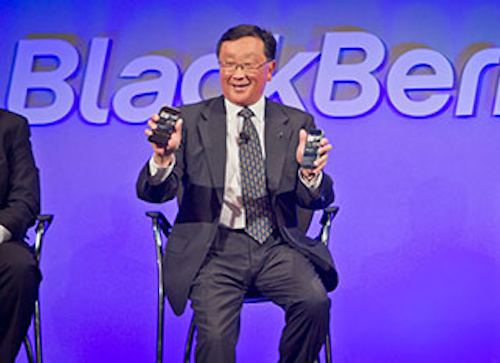 A recent report indicated South Korean electronics giant Samsung recently offered to purchase BlackBerry for as much as $7.5 billion, a claim both companies denied.
The developments, however, showcase the ongoing significance of BlackBerry even as its share of the consumer smartphone market continues to slide.

"BlackBerry has not engaged in discussions with Samsung with respect to any possible offer to purchase BlackBerry," the Canadian telecommunications company said today in a statement, while a Samsung spokesman called the takeover report "groundless."

The reported sale price would value BlackBerry at $13.35 to $15.49 per share, well above its current stock price. BlackBerry stocks rose sharply on news of the reported acquisition, then fell back to $10.41 per share as of this morning.

BlackBerry controlled nearly half the smartphone market as recently as 2009, but has since been overtaken by Apple's iPhone and Android devices offered by Samsung and others. Analysts, however, said BlackBerry's tech offerings and intellectual property have maintained its status as an attractive takeover target.

BlackBerry's security software, for example, remains more popular in the business sector than Samsung's KNOX software as corporate clients become a more important part of the smartphone marketplace.

The proposed acquisition would also enable Samsung to, like Apple, control its own hardware and software; the company currently utilizes the Android system made by Google. BlackBerry also retains control of some 44,000 patents reportedly worth more than $1.4 billion.

Another report, meanwhile, today indicated BlackBerry has recently rebuffed several potential buyers, with the company's board and largest investor backing a multi-year turnaround proposal by CEO John Chen.

The board also reportedly feels a price tag in excess of $7 billion remains far below the company's potential value, though one analyst in Seoul said Samsung's reported offer "seems way too high."
---
More from MBTMag.com
3 Questions For New U.S. Auto Safety Chief
Tesla's CEO Expects Company Profit In 2020
Report: Employee Training Can Reduce Cyber Security Risks
Explore more news
here
.