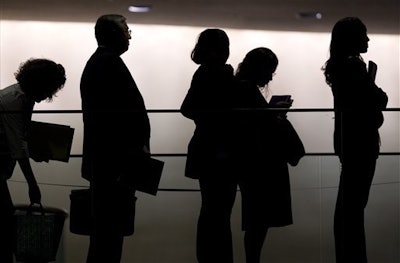 WASHINGTON (AP) — U.S. workers face a dim future, with stagnant or falling pay and fewer openings for full-time jobs.
That's the picture that emerges from a survey of Harvard Business School alumni.
More than 40 percent of the respondents foresee lower pay and benefits for workers. Roughly half favor outsourcing work over hiring staffers. A growing share prefer part-time employees. Nearly half would rather invest in new technology than hire or retain workers.
At the same time, it's becoming harder for the executives to find skilled workers, according to the survey results being released Monday.
Jan Rivkin, one of the survey's lead authors, suggested that a failure by companies to develop a skilled workforce could ultimately hurt those companies and the competitiveness of the U.S. economy.
"The bleak picture facing middle and working class Americans are the canary in our coal mine," said Rivkin, a Harvard business professor. "Eventually, that will come back to haunt business."
The survey reflects the unevenness of the recovery from the Great Recession. Since the recession officially ended more than five years ago, many of the gains in employment, income and wealth have failed to circulate through the entire economy.
Few workers have received meaningful pay raises. Median household incomes, adjusted for inflation, are below their pre-recession levels, according to estimates by Sentier Research. The median income was $54,045 in July, about 4.6 percent lower than when the recession began in late 2007.
The survey suggests that incomes aren't likely to increase much anytime soon. Forty-one percent of respondents see lower wages and benefits ahead; just 27 percent expect pay raises.
The survey's responses run counter to some traditional economic models. Historically, a falling unemployment rate — the U.S. rate has dropped steadily to 6.1 percent — tends to spur competition among employers for workers and leads them to raise wages and salaries.
The survey found that many companies are reluctant to add jobs if other alternatives exist. Only 25 percent said they preferred investing in employees, compared with 46 percent who would rather spend on technology. Forty-nine percent favored outsourcing work over hiring.
The companies have become more dependent on part-timers in the past three years and say it's harder to fill skilled positions.
The survey report notes that companies could invest more in education to improve workers' skills. Companies tend to donate to schools for computers, backpacks and scholarships, rather than programs that might better prepare students for careers. Only 27 percent of respondents said their companies have partnerships with community colleges.
The survey drew on responses from 1,947 Harvard Business School graduates, ranging in age from 26 to 98. Among the respondents who are working, 40 percent said they had a title of chief executive or its equivalent.
The economic recovery has left many executives feeling more optimistic about the competitiveness of the U.S. economy compared with the first survey of alumni taken three years ago. Slightly less than half say the economy is becoming less competitive relative to other countries. That marks an improvement from 71 percent who said so in 2011 and 58 percent who did in 2012.
These executives have reasons to be more upbeat. The Standard & Poor's 500 stock index closed last week at a record high. Stock gains have been fueled in part by solid profits from publicly traded companies. And the median compensation for a chief executive at a publicly traded company topped $10.5 million last year, according to an analysis by the Associated Press.
But the survey results indicate that such gains might ultimately be unsustainable. Without educated workers and rising standards of living, the economy faces a greater risk of stagnating. The results indicate that doubts about the economy have faded during the recovery but that the economic divide poses a longer-term challenge to continued growth.
"One way to think about it: The ship is sinking more slowly," Rivkin said.
---
More from MBTMag.com
U.S. Employers Add 142K Jobs
Cleanup Of Lead, Arsenic At Charleston Plant Begins
Apple To Add More Security Measures
Explore more news

here

.