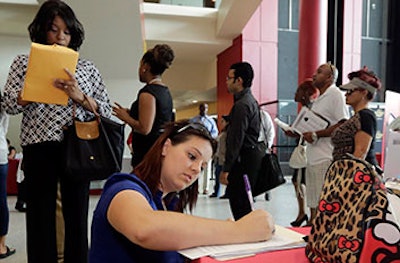 WASHINGTON (AP) — Optimism among chief executives at the largest U.S. companies fell in the July-September quarter after reaching a two-year high in the previous quarter.
The Business Roundtable said Tuesday that its CEO outlook index fell to 86.4 in the third quarter, down from 95.4 in the April-June period.
Fewer CEOs expect to hire in the next six months: Just 34 percent plan to add jobs, down from 43 percent. And only 39 percent plan to boost their capital spending, down from 44 percent.
Nearly three-quarters of the chief executives expect higher sales, the same as in the second quarter.
Randall Stephenson, CEO of AT&T Inc. and chairman of the Roundtable, blamed the decline of the index on Congress' failure to extend temporary tax breaks that encourage research and development and investment spending.
The survey was conducted from Aug. 11 to Aug. 29, and 135 of the Business Roundtable's 200 CEOs responded.
The index's fall "reflects a slow growth economy that ebbs and flows and stops and starts and is underperforming previous recoveries," Stephenson said. Overseas conflicts in the Ukraine and Middle East have also weighed on executives' optimism.
Chief executives were encouraged in the second quarter by the expectation that Congress would extend the tax breaks, Stephenson said. But now they are more hesitant about spending on machinery and other capital equipment because it is unclear whether Congress will be able to extend them before the end of the year.
Stephenson also said that a rash of U.S. companies moving offshore to avoid U.S. taxes through a process known as "inversion" has been prompted by the nation's relatively high corporate tax rate. Business groups have been pushing the Obama administration and Congress to cut the rate as part of broader corporate tax reform, though little progress has been made so far.
"To the extent that U.S. businesses anticipated meaningful tax reform, these inversions would taper off very rapidly," Stephenson said during a conference call with reporters.
Most economic data suggest the economy is growing, though only at a modest pace. Hiring slowed in August as employers added just 142,000 jobs, the fewest this year. The unemployment rate fell to 6.1 percent from 6.2 percent.
The economy expanded at a 4.2 percent annual rate in the second quarter, a healthy rebound after it shrank 2.1 percent in the first three months. Still, most economists forecast that growth will be just 2 percent for all of this year.
---
More from MBTMag.com
Court Rules In Favor Of Direct Sales For Tesla Motors
U.S. Producer Prices Unchanged In August
Survey: Decisive New Technology Adoption Leads To Competitive Advantage
Explore more news

here

.