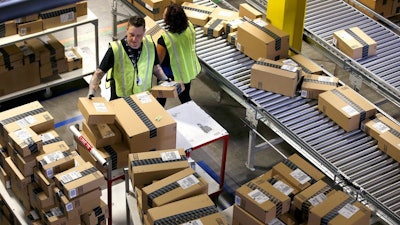 According to the Wall Street Journal, Amazon is testing a delivery service that will, in effect, circumvent the need for third party carriers like UPS and FedEx.
The service, designed for the "last mile" of the delivery, is currently being tested in communities like San Francisco. Says WSJ:
Adjacent to recently closed Candlestick Park, Amazon is testing its own delivery network for the "last mile," the final leg of a package's journey to consumers' doorsteps. Trucks loaded with Amazon packages and driven by Amazon-supervised contractors leave for addresses around San Francisco.
This effort is also underway in other U.S. metropolitan areas. The tech site Mashable points out that Amazon has already rolled out a similar delivery service in the UK, which CEO Jeff Bezos highlighted in a letter to shareholders earlier this year:
"We've created our own fast, last-mile delivery networks in the UK where commercial carriers couldn't support our peak volumes," he wrote.
Amazon is no stranger to logistics "work-arounds" – most notably its high profile research and development of drone delivery options. The company recently said its Prime Air team is testing fifth- and sixth-generation aerial vehicles and in the design phase on generations seven and eight.
---
More from MBTMag.com
Google: Driverless Cars Mastering City Streets
Chinese Shoe Factory Strike Partially Ends
Last Olds Rolled Off Lansing Line Decade Ago
Explore more news

here

.