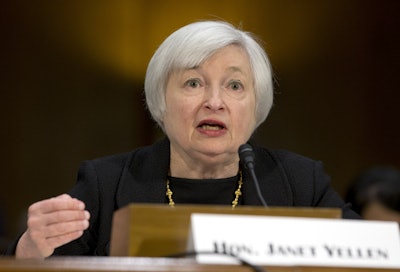 WASHINGTON (AP) — Federal Reserve Chair Janet Yellen says that if the economy keeps improving, the Fed will take "further measured steps" to reduce the support it's providing through monthly bond purchases.
In her first public comments since taking over the top Fed job last week, Yellen said Tuesday that she expects a "great deal of continuity" with her predecessor, Ben Bernanke. She signaled that she supports his view that the economy is strengthening enough to withstand a pullback in stimulus but that rates should stay low to fuel further growth.
Yellen's remarks, prepared for a House committee she will address Tuesday, signal that the Fed will keep its key short-term rate near zero for a prolonged period. That message could be a reassuring one for investors.
In her remarks, Yellen said the Fed is monitoring volatility in global markets but doesn't think it poses a serious risk to the United States.
"Since the financial crisis and the depths of the recession, substantial progress has been made in restoring the economy to health and strengthening the financial system," Yellen said in her testimony for the House Financial Services Committee. "Still, there is more to do."
Yellen, the first woman to lead the central bank in its 100 years, is delivering the Fed's twice-a-year report to Congress a week after being sworn in to succeed Bernanke. He stepped down Jan. 31 after eight years as chairman.
Many economists think the Fed bond buying, which totaled $85 billion a month during 2013, will be reduced in $10 billion increments this year until the purchases are eliminated in December.
After the two $10 billion cuts in December and January, the level of bond buying stands at $65 billion. The purchases of Treasury and mortgage bonds are aimed at stimulating the economy by keeping long-term borrowing rates low.
Yellen repeated the Fed's assurances that it intends to keep its key short-term rate near zero "well past" the time the unemployment rate drops below 6.5 percent as long as inflation remains low. Many economists don't expect short-term rates to be increased until late 2015.
The unemployment rate in January fell to 6.6 percent, the lowest point in more than five years. Still, in her testimony, Yellen said the unemployment rate remained "well above levels" that Fed officials think are consistent with its goal of maximum employment. She said the job market still faces problems.
"Those out of a job for more than six months continue to make up an unusually large fraction of the unemployed," she said. "The number of people working part time but would prefer a full-time job remains very high."
In her testimony, she stuck closely to the positions taken by Bernanke. She noted that she had served on the Fed's policy committee and worked with Bernanke in developing the central bank's policies.
"I strongly support that strategy which is designed to fulfill the Federal Reserve's statutory mandate of maximum employment and price stability," Yellen said.
She said the Fed expects the economy to expand at a moderate rate this year, with unemployment continuing to fall and inflation moving up toward the Fed's 2 percent target.
Yellen's testimony comes before she has had a chance to preside over her first meeting as Fed chair. That will not occur until March 18-19, after which she will hold her first news conference.
The Fed's three round of bond purchases have driven the central bank's holdings above the $4 trillion mark — four times its level before the financial crisis struck with force in 2008.
The bond reductions, and even the hint of future reductions back in the summer, have had an outsize impact on financial markets. They have triggered concerns that many emerging market countries won't be able to withstand the withdrawal of foreign capital.
Investors have yanked money from emerging economies from Turkey to Argentina. They've done so in part because they fear that a pullback in the Fed's stimulus will send U.S. interest rates up and draw investor money from overseas in search of higher returns.
The U.S. stock market, which finished 2013 at record highs, has had a tough start to the new year as investors have grown concerned about a string of bad reports calling into question the consensus view that 2014 will be a turnaround year in which economic growth finally kicks into a higher gear.
Yellen's testimony came after a Labor Department jobs report last Friday showed the economy added only 113,000 jobs in January after an even more disappointing 75,000 jobs were added in December.