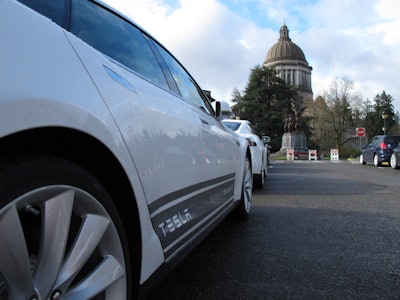 OLYMPIA, Wash. (AP) -- Tesla enthusiasts drove their electric cars to Olympia on Monday to protest legislation they said would prevent the company from opening and operating additional facilities in Washington state.
Tesla lobbyist Daniel Witt told supporters at the Capitol that under legislation currently proposed, Tesla Motors Inc. would not be able to expand beyond the two stores and service centers it operates in Seattle and Bellevue.
Language in House Bill 2524 and its companion, Senate Bill 6272, says the Department of Licensing would no longer be able to issue additional facility licenses to Tesla because of its status as a vehicle manufacturer and not as a dealer. The company sells cars directly from the manufacturer to the consumer.
The House and Senate passed their respective bills late Monday night.
HB 2524, which passed on a 93-3 vote, would clarify existing laws between manufacturers and dealers, according to the bill's sponsor, Rep. Steve Kirby, D-Tacoma. He said the provision that would have banned Tesla from expanding in the state was fixed in an amendment, but the language didn't specify Tesla's ability to do so.
In SB 6272, which was amended on the floor before passing unanimously, Tesla still would be able to continue to grow and profit, according to Sen. Mark Mullet, D-Issaquah.
Efforts to reach a Tesla spokesman late Monday evening were unsuccessful.
Both bills will head to the opposite chamber for consideration and will need to be reconciled before final passage.
During the rally earlier in the day, Bill Hotchkiss, of Vancouver, Wash., said he and his wife bought their Tesla Model S sedan online in April 2013, a process he called seamless. Hotchkiss said that they came to the rally, in part, because, "it cost us nothing to get here." The car can go up to 265 miles on a single battery charge.
The Model S begins at about $70,000 but can top $100,000 with options. Washington state has the most Tesla vehicle sales per capita, Witt said.
---
More from MBTMag.com
Appeals Court Upholds Dismissal Of Asbestos Suit
Smucker Facing Peanut Butter, Fruit Spread Issues
Eurozone Recovery Accelerates But Jobs Elusive
Explore more news

here

.