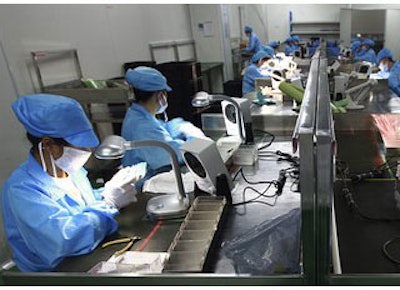 BEIJING (AP) -- China's manufacturing slowdown stabilized in August in another possible sign the world's second-largest economy is improving, a survey showed Thursday.
HSBC Corp. said the preliminary version of its monthly purchasing managers index rose to 50.1 from July's 47.7 on a 100-point scale. Numbers above 50 indicate an expansion in activity.
The modest improvement is a positive sign for Chinese leaders who are trying to reverse a slowdown that dragged economic growth to a two-decade low of 7.5 percent in the latest quarter.
New output and new orders increased, HSBC said, while export orders and employment continued to decline.
"China's manufacturing growth has started to stabilize on the back of modest improvements of new business and output," said HSBC economist Hongbin Qu in a statement. He said China might see "upside surprises" in growth in coming months.
The bank's preliminary index is based on responses from 85 to 90 percent of the 420 companies it surveys each month. The full index is due to be released on Sept. 1.
Chinese leaders say they are comfortable with slower growth and will avoid an across-the-board stimulus. But they have announced measures to perk up individual areas of the economy including higher spending on railway construction and a tax cut for small businesses.
The International Monetary Fund and private sector analysts have cut their growth forecast for this year and some say growth could fall below 7 percent in coming quarters.
That raised the prospect of a politically dangerous rise in unemployment but the government says the economy still is creating new jobs.
Among other recent signs of possible improvement, July imports surged 10.9 percent, beating expectations, while exports rose 5.1 percent.
China's slowdown was largely self-imposed. Beijing clamped down on bank lending and investment as part of efforts to nurture more self-sustaining growth based on domestic consumption and reduce reliance on trade.
---
More from MBTMag.com
Low Labor And Energy Costs To Fuel A U.S. Export Surge
Iraq Vets Join Ranks Of Va.'s Rising Craft Beer Biz
Diamond Foods Proposes Walnut Lawsuit Settlement
Explore more news
here
.